From blackened teal to saturated emerald, designers are using a selection of pigment-rich shades to create rooms with a hint of intrigue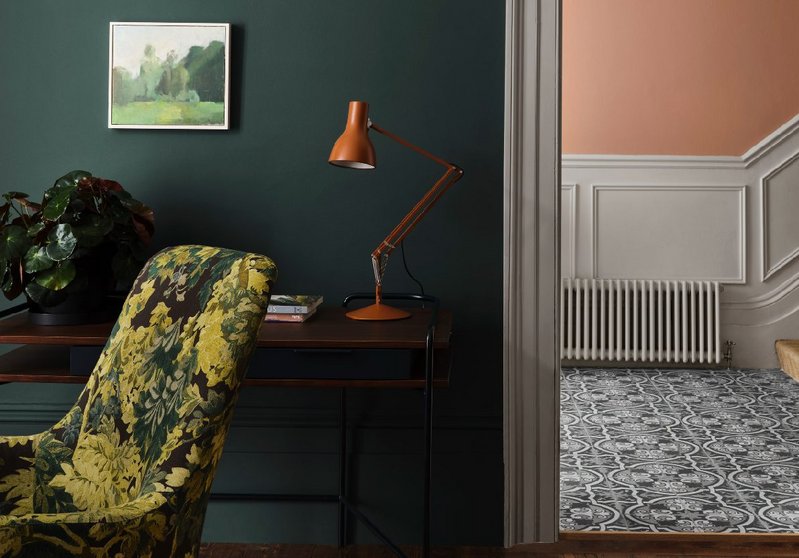 Living room painted in Nori; hallway in Roben's Honour and Slate III, all Paint & Paper Library.
Paint & Paper Library's expanded colour card includes a selection of blue and green hues designed to lend spaces a compelling ambience.
Shades like blackened teal, Nori, and contemporary deep green, Sencha, are inspiring serene and sophisticated interior schemes.
Deep blue-greens are ideal for use in colour-drenching schemes that fully immerse occupants in their rich pigmentation. In a study or living space, Nori can instil an enveloping sense of comfort.
The Iguana paint shade was inspired by the distinctive colour of the chameleonesque Cayman Blue Iguana. A full-bodied teal, it is perfect for the cooler light of north-facing rooms.
In an all-over scheme, Iguana contrasts well with a neutral like Cotton II on the ceiling. Use alongside decorative panelling, cornicing and dado rails for a compelling design that balances a strong, contemporary shade with classic architectural features.
Create an indulgent bathroom scheme by using deep, muted blue Mockingbird on all four walls for a cocoon of wraparound colour.
Sencha is a natural, mid-strength green, perfectly suited to an intimate bedroom space. The impactful pairing of Pollen II on the ceiling and Sencha on walls and woodwork delivers warmth and gravitas.
For a dramatic green muted with black, try bold yet restful Fynbos. Depending on a room's aspect and light conditions, it can appear blue, grey or green.
The Original Colours collection from Paint & Paper Library provides a shade for every personality, bringing strength and character to any space.
The new Paint & Paper Library colour card is available now.
For more information and inspiration, visit paintandpaperlibrary.com
Contact:
0845 880 5844
---