iKozie offers independence in a carefully planned space to call home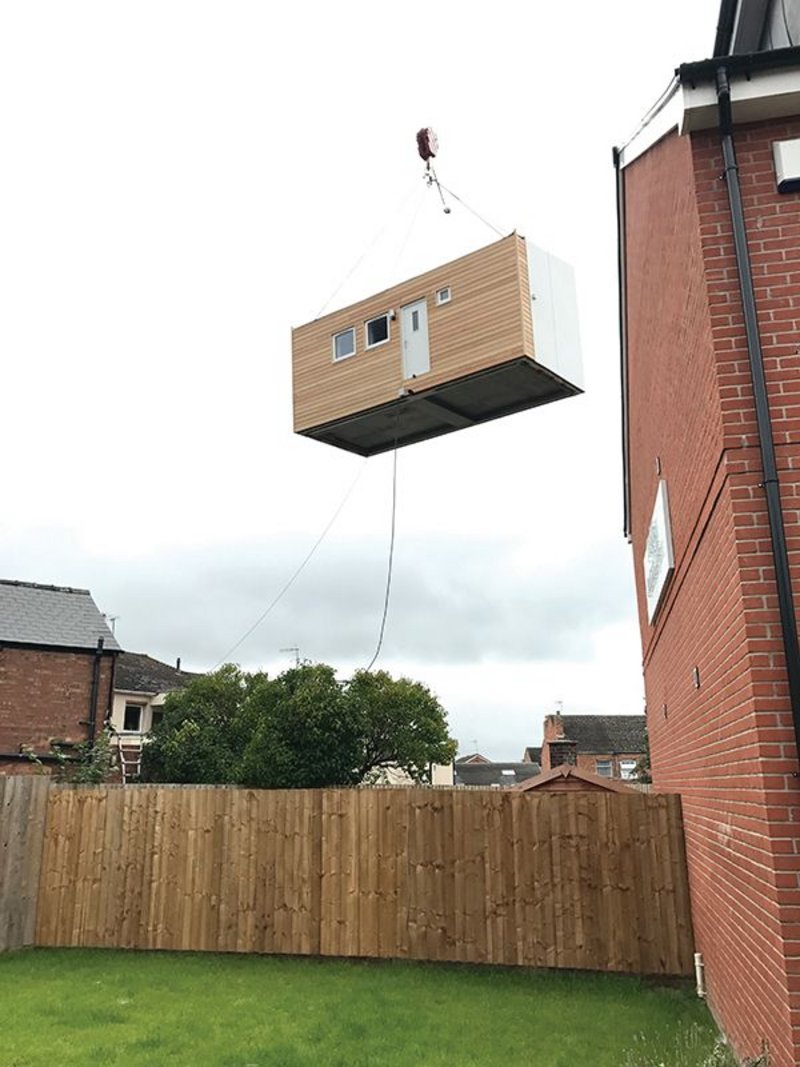 Craned onto site, iKozie provides independent living for a single homeless person.
What: iKozie micro-home
Where: Worcester
The interiors of yachts and first class airline cabins were the unlikely inspiration behind a new pre-fabricated 'micro home' for the homeless, installed on a site in Worcester
The iKozie is a self-contained, fully-fitted single person home, developed by charity The Homeless Foundation as a solution to rough sleeping, which has escalated dramatically in the UK since 2010.
With a footprint of just 17.25m² the unit is less than half the minimum set by the Greater London Authority and the RIBA, but it should feel bigger thanks to a 'zoned' and ergonomic open plan layout, by Eastabrook Architects.
The home features a bedroom, with a small double bed squeezed between the back wall and a built-in cupboard; an 'entertainment zone' with two-seater sofa, television and a table; and a narrow galley kitchen with a cooker, washing machine, fridge and work surface.
Spaces are separated by curved grey MDF partitions, to create a degree of privacy yet maintain a physical connection. The only separate room with an interior door is the shower room/toilet.
'We drew inspiration from first class suites in airlines which are compartmentalised, but still give a sense of privacy,' explains Kieran O'Donnell, trustee at The Homeless Foundation. 'Careful thought went into the ergonomics, for example when the front door is opened, the bed is shielded from view. The partition next to the sofa prevents visitors coming through the front door from seeing in.'
Materials and finishes were selected to be a step up in quality from hostel accommodation, the floor is made of engineered walnut, the walls of durable plasterboard. 'The silver coloured MDF is an amazing product in terms of ongoing maintenance, if it gets damaged or scratched you can simply sand it back to the same colour,' says O'Donnell.
The off-site manufactured steel frame features reinforced corner columns designed to allow other units to be stacked on top, up to three (the maximum permitted before a lift must be installed under Building Regulations). Connections to waste, mains water and metered electricity terminate under the front door step.
The iKozie in Worcester cost £40,000 to build, but because it is located in the grounds of a shared house owned by the Homeless Foundation, the land came for free. The organisation is now looking at a site that could fit 29 units, pending finance and planning, says O'Donnell, who is eager to give youngsters a foothold on the housing ladder.
'Lots of homeless people end up in shared housing situations and never truly learn what it's like to be responsible for their own space. We want them to be able to cook and clean for themselves and pay their own bills. After six months to a year of learning those skills in an iKozie they will be ready to move higher up Housing Association waiting lists,' he concludes.