Habitat 67 inspired Wilkinson Eyre's housing for students at James Dyson's campus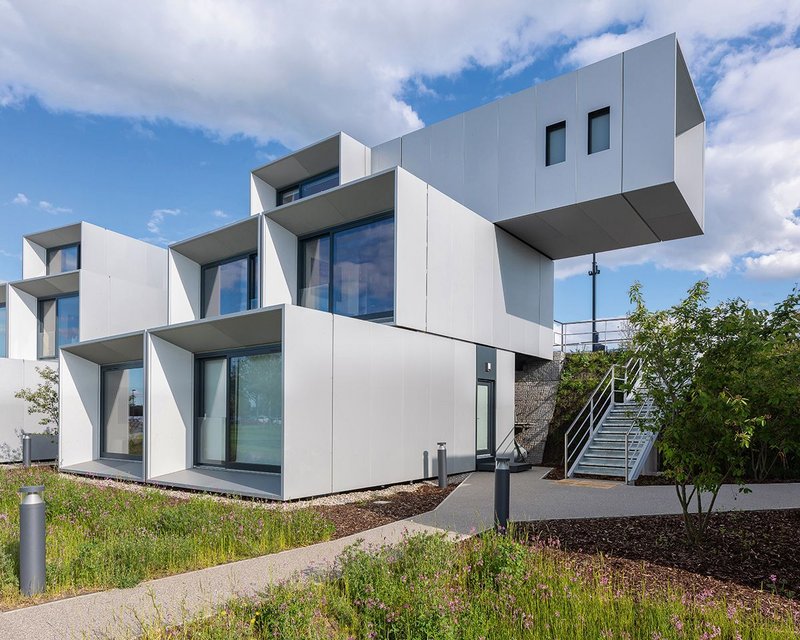 At the Dyson Institute in Wiltshire cantilevers of 3m for each storey give a strong overall shape to the student residences against the green bund.

Credit: Peter Landers
Stacked in a crescent, the new student housing for Dyson in Malmesbury, Wiltshire, is like no other student housing. Its precise boxes, arranged in clusters of three to six, look like the results of a manufacturing process akin to that Dyson uses for its streamlined Supersonic hairdryer and Pure Cool air purifier.
The plans started with a need for more engineering graduates that James Dyson felt unable to realise through conventional universities. 'I always complained there weren't enough engineers,' Dyson says. So he took up the suggestion from then minister of state for universities, science, research and innovation Jo Johnson, that he should start his own university. Undergraduates work and study on the Dyson campus. 'We pay them and cover fees for the four year degree and then they are free to leave.' Now students are housed in these pods.
Original designs by Wilkinson Eyre were for something more conventional along a corridor – until Dyson mentioned Moshe Safdie's Habitat 67. Dyson's 63 pods sit each side of a bund of earth displaced from elsewhere on the rapidly developing site. The clusters were pulled apart to give a sense of airy containment; two storeys at either end rise to three in the centre.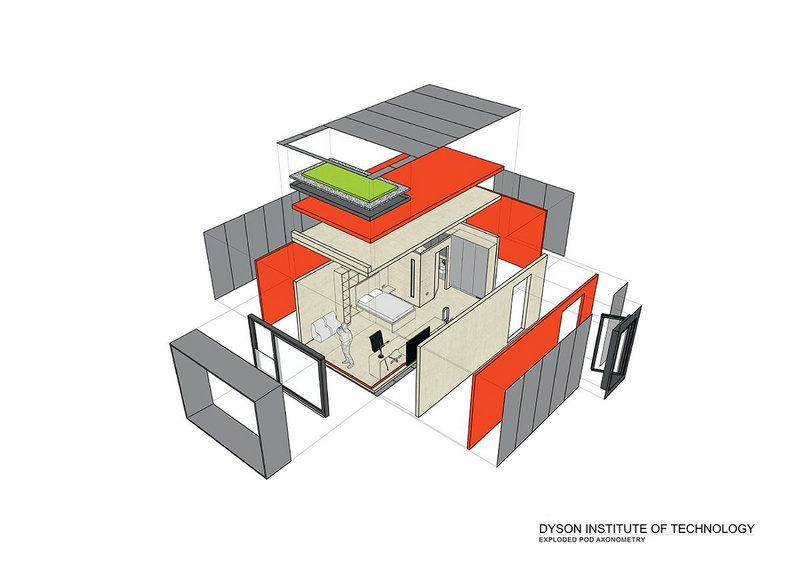 Reworking earlier buildings on the site Wilkinson Eyre had used CLT. It's sustainable and it fits the product design philosophy,' says Wilkinson Eyre director Yasmin Al-Ani Spence – to reconcile and rationalise design so there are no more materials than needed and all work really hard. The simple wooden box performs acoustically, thermally and structurally. 'You are always looking for the most economic and efficient solution.' Except of course for the cantilevers of up to 3m that transform all that efficiency with a little playfulness.
The search was on for a contractor who could prefabricate the pods. A small but willing contractor, Invergordon-based Carbon Dynamic prefabricated volumetric 8m x 4m pods from CLT. These were driven from Scotland, two at a time, to the Dyson electric car site at Hullavington. An outer layer of aluminium cladding was added and the pods moved the 6 miles to Dyson's campus. Unfortunately Carbon Dynamic went bust, delaying installation of the pods until December (they were landed in the middle of the night to avoid heavy winds).
The stacking volumes cantilever out 3m towards the bund on the first floor and again on the second. CLT boxes are cantilevered a total of 6m with no support from steel, nor the bund below. It required some new calculations on the number of bolts.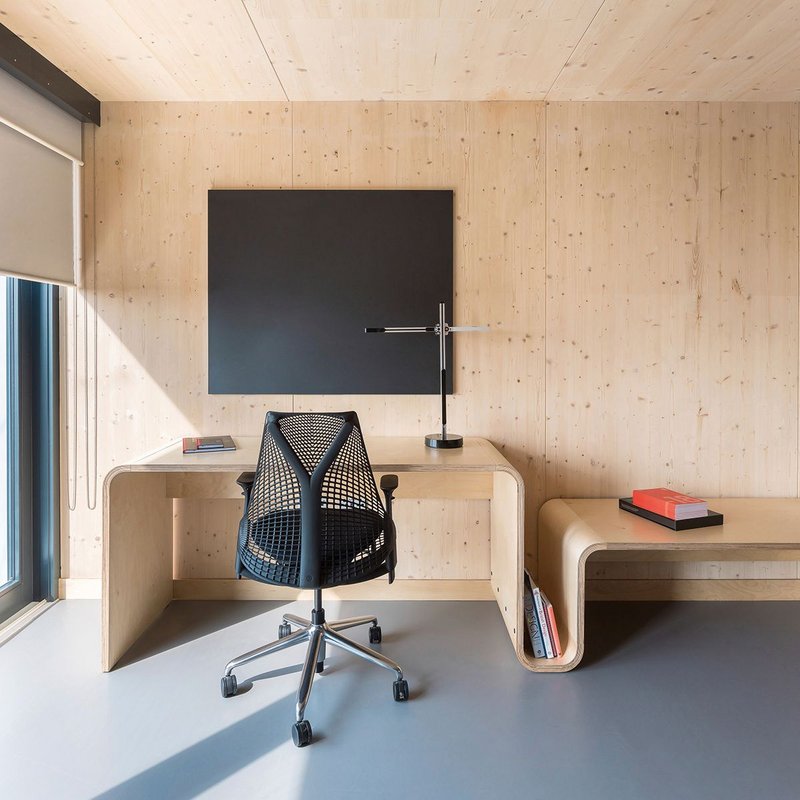 Bedroom, washing and kitchen pods give a familiar sense of a house in the massing – though every room has its own front door.

Credit: Peter Landers
'The bund itself is its own building,' says Al-Ani Spence. Wilkinson Eyre made sure it wouldn't slump with gabions, and mesh through which wild flowers are now being encouraged to grow. The relationship between the bund and first floor had to allow for around 50mm settlement, so access to these pods is by a drawbridge – with services slung beneath it.
Chris Wilkinson sees pods like these as a great hope. 'They have got to be the answer to the housing crisis; why are we still using bricks and mortar?' What is stopping that? 'Courage,' he answers: 'Now we have seen how easy it is, and where the problems are.'
Credits
CLT Binderholz
Prefabricated pods' contractor Carbon Dynamic
Accoya timber window and door frames Treecraft
Glazing Guardian Glass UK
Interiors Fitted furniture: Kenton Jones
Desk Centrium
Cladding/Sedum Bailey