From working kitchens and tap displays to seminars and 'Grab and Go' samples, the RAK Ceramics' new Design Hub in Clerkenwell lets architects get hands-on with washroom products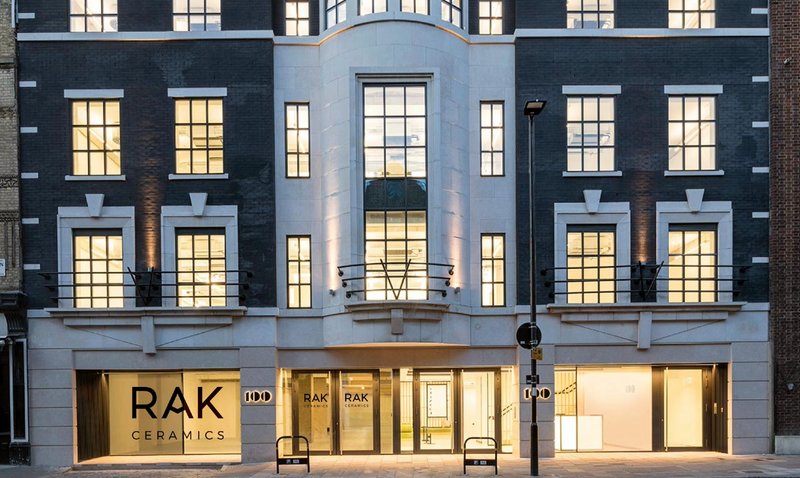 RAK Ceramics' Design Hub, Clerkenwell: An interactive and immersive environment designed to inspire creativity.
RAK Ceramics has opened a new interactive venue in London.
The Design Hub at 100 St John Street in the Clerkenwell design quarter is one of the largest of its kind with 7,276sq ft of space over two floors.
Designed as an interactive retail concept where designers, architects and developers can try out RAK Ceramics products for their projects, the hub includes a working kitchen display, working tap display, Virtual Worlds 4D Theatre and a 'Grab and Go' sample area.
There is a dedicated space showcasing RAK Ceramics' tile ranges, including its Mega Slabs, and meeting facilities for designers, architects and developers who are encouraged to visit the venue for inspiration.
The hub hosts regular events, seminars and talks relevant to the industry and also provides a launch pad for new collections. Experimental innovations are showcased for feedback, allowing designers and architects the first glance of new products and ranges.
The official opening of The Design Hub in May 2022 saw the launch of five bathroom and surface collections created in collaboration with Lebanese fashion designer Elie Saab: Glamour, Liquid Metal, Royal, Soft Lux and Travertinum.
The Glamour collection offers specifiers sophisticated onyx, palissandro and dark marble; Liquid Metal, striking gold and concrete finishes; Royal, elegance for contemporary living spaces; Soft Lux, gleaming qualities and elegant marble; and Travertinum, organic textures and golden accents for bathrooms with natural charm.
Commenting on the opening of the new hub, Ben Bryden, RAK Ceramics sales and marketing director for the UK, said: 'The location gives us the opportunity to express the possibilities that our products and solutions bring to designers, architects and specifiers.
'It is wonderful to be at the centre of design life in Clerkenwell.'
For more information and technical support, visit rakceramics.com
Contact:
01730 237850
To book a visit to the RAK Ceramics Design Hub London, email emma.biggs@rakceramics.com
---