Company's broad sanitaryware and accessories offering provides architects with a one-stop shop for everything from high-end refurbishments to large volume developments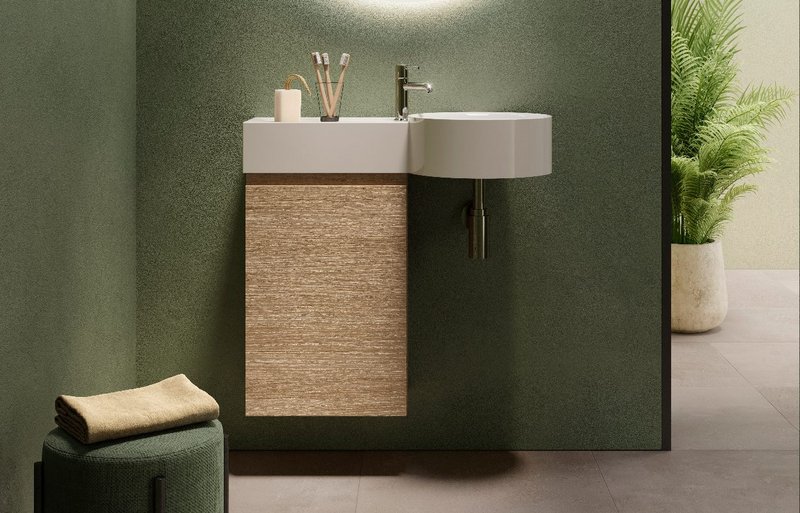 RAK Ceramics' bathroom solutions include sanitaryware, brassware, furniture, mirrors and wall and floor tiles. This allows the company to service the top-end luxury market as well as mid-range sectors.
Many of the collections in the RAK Ceramics portfolio are designed to be interwoven. While offering a specific design element themselves, they can work alongside other ranges for a seamless finish, all from one trusted supplier.
The RAK-Petit collection of deep-based ceramic washbasins is designed for compact bathrooms and cloakrooms where, to feel luxurious, fixtures and fittings have to work that bit harder. RAK-Petit was created in collaboration with award-winning Italian designer Giuseppe Maurizio Scutellà and the washbasins feature minimal shapes and modest dimensions.
Freestanding RAK-Petit washbasins come in circular and square shapes in Alpine White. They measure 360mm wide x 900mm tall. The wall-hung versions come in the same round and square options and have a ceramic ledge that provides an easy-to-clean surface for soaps and toothbrushes.
The deep-based washbasins can be combined with RAK-Joy vanity units to provide storage where space allows.
Another bathroom collection, RAK-Des, is designed to achieve form and function and practical, comfortable spaces. With this collection, RAK Ceramics aims to make bathrooms as relaxing as living spaces.
RAK-Des bowls and freestanding washbasins have boutique hotel-style minimal lines and sleek and streamlined finishes. Like the RAK-Petit washbasins, these can be combined with RAK-Joy vanities as well as RAK-Precious countertops.
RAK-Precious provides a luxurious alternative to functional ceramic white, with surfaces that mimic the natural properties of stone, marble and cement, bringing the trend for industrial styling into the bathroom in a functional way.
The RAK-Des WC can be wall-hung or installed back-to-wall and features the latest in flushing technology.
Working with a manufacturer that can provide total bathroom solutions is important. RAK Ceramics gives architects maximum creative freedom for their bathroom designs. See the RAK Ceramics' Bathroom Book 2021 brochure at rakceramics.com/download-area
For more information and technical support, visit rakceramics.com
Contact:
01730 237850
---