The broad sanitaryware and accessories offering from RAK Ceramics provides architects and designers with a one-stop shop for everything from high-end refurbishments to large volume developments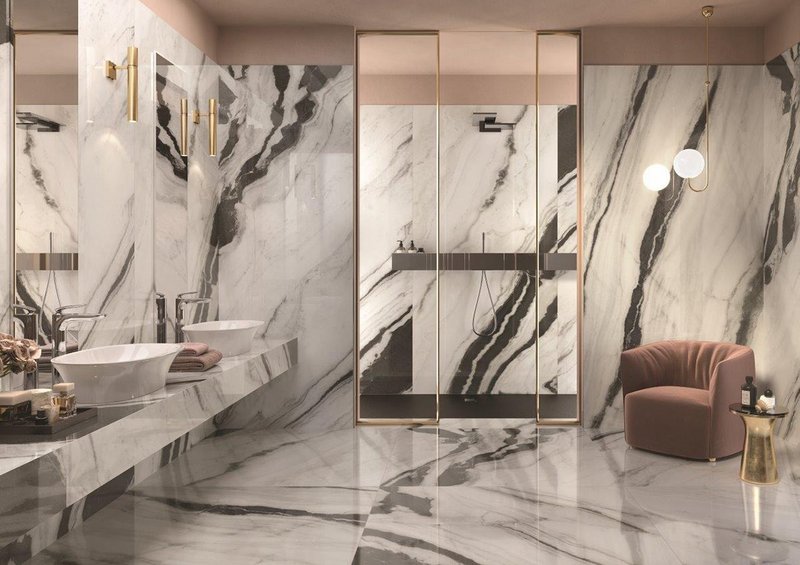 RAK Ceramics is a total bathroom solutions provider, offering architects innovation, quality and exceptional service on every design aspect, from tiles and sanitaryware to brassware and furniture.
As the third largest tile producer globally and the biggest porcelain tile producer in the world, the company is able to serve both the top-end luxury market and the more everyday functional needs of large volume orders; a one-stop shop for everything in the bathroom.
RAK Ceramics' award-winning Mega-Slabs are large-format porcelain tiles that can be used to create a tiled space with virtually no grout lines. In the bathroom they work particularly well as wall cladding and flooring.
Mega-Slabs are available in seven sizes up to 135x305cm and are recyclable, lightweight, durable, easy to clean and heat resistant.
They come in a range of designs, including marble effect (shown here), concrete, stone and metal, so designers can incorporate the latest on-trend looks into any interior design without any maintenance issues. Mega-Slabs can be delivered direct to site for ease of handling.
RAK Ceramics' RAK-Des collection is designed to achieve form and function in bathrooms that are as relaxing as living spaces.
There is a wide choice of RAK-Des freestanding, wall-hung and countertop bowls and washbasins featuring ergonomic shapes, minimal lines and sleek and streamlined finishes. Washbasins can be combined with RAK-Joy Uno vanities to create modular furniture with generous internal storage.
Recent brassware launches from RAK Ceramics include RAK-Petit Round and RAK-Petit Square, which are available in on-trend finishes that can be matched with co-ordinating accessories.
Bathrooms need to combine form and function seamlessly and working with a single manufacturer is a streamlined and convenient way for architects and designers to achieve a full interiors solution.
For more information and technical support, visit rakceramics.com
Contact:
01730 237850
---