Extruded polystyrene can be a cost-effective alternative to PIR products where escalating raw material prices and potential availability issues are beginning to impact the market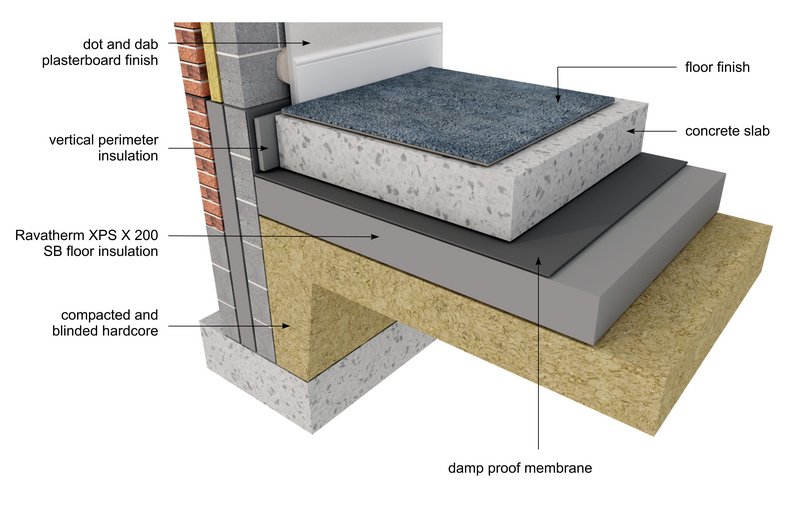 Ravatherm XPS X 200 SB thermal insulation is resistant to high loads and has negligible moisture uptake.
Ravago Building Solutions, Europe's largest manufacturer of XPS insulation, launched Ravatherm XPS X 200 SB earlier this year.
Ravatherm XPS X 200 SB is a high-performance thermal insulation board specifically designed for the residential market. It offers a cost-effective alternative to traditional PIR (polyisocyanurate) products.
It is robust and durable and can endure foot traffic on site. Capable of withstanding 200 kPa, the boards meet all requirements regarding compressive loads in the domestic/residential market.
Ravatherm XPS X 200 SB products offer exceptional thermal performance. The 50mm boards have a declared lambda of 0.030 W/mK and the 75mm, 100mm and 125mm thicknesses achieve 0.031 W/mK.
With low water absorption, Ravatherm XPS X 200 SB has a natural resistance to rain, frost, snow and water vapour, making it an ideal choice for residential flooring applications.
Steel grey in colour and with a butt edge finish, Ravatherm XPS X 200 SB boards can be cut easily and accurately using hand tools, offering simple and quick installation with minimal waste. These lightweight boards can easily be positioned on site for installation below the slab or below the floor screed, as well as in beam and block floors.
Manufactured at Ravago's UK plant in King's Lynn, Norfolk, Ravatherm XPS X 200 SB has a lead-time of just three to four days from order to delivery.
Ravatherm XPS X 200 SB can be supplied in individual packs or a 15m3 bulk unit (2.95x2.5x2.4m) on foam bearers. Bulk units can be broken down on-site into four pre-wrapped units or split into individual packs, offering a variety of easy ways to transport material around a busy construction site.
For more information and technical support, visit: ravagobuildingsolutions.co.uk
Contact:
North of England Adam.hilmi@ravago.com
South of England Natalie.sutton@ravago.com
---