New Architype-designed building will cut energy consumption by up to 80 per cent compared with the two schools it is replacing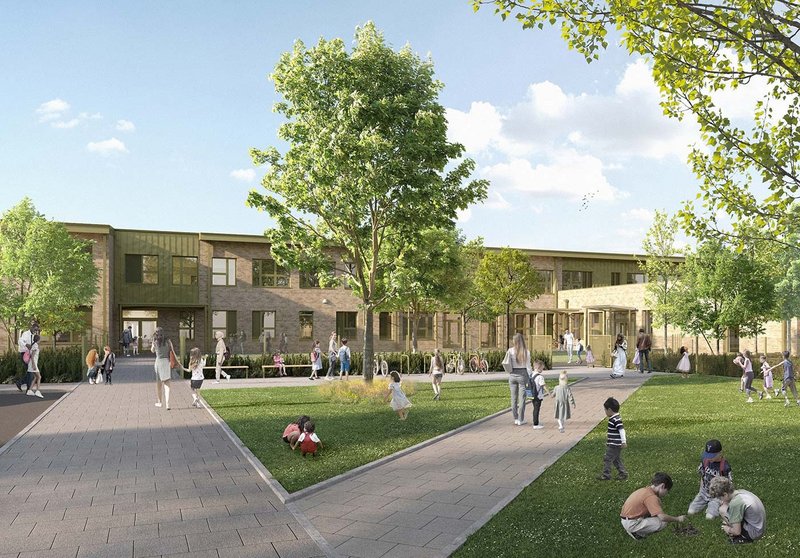 The entrance at Riverside Primary School in Perth, Scotland. Acreo has been subcontracted to construct the concrete floors, which includes the installation of Ravago's Ravatherm XPS X extruded polystyrene insulation board.

Credit: Architype visual Dalgety
Riverside Primary School in Perth will be one of the first in Scotland to be built to the Passivhaus standard when it opens in April next year.
The school, in Uist Place near the banks of the River Tay, has been designed by Passivhaus specialist architect Architype and is being delivered by construction firm Robertson Tayside.
The local authority, Perth & Kinross, is committed to making its schools as energy efficient and cost-effective to run as possible.
Over 500 children will attend Riverside Primary School and the project will help the council meet its zero carbon aspirations.
Passivhaus buildings follow an integrated design methodology that involves the careful selection of materials. Insulation is fundamental to achieving energy efficiency.
The new school will deliver a 60 to 80 per cent reduction in energy consumption compared with the two schools it will replace.
Concrete floors specialist subcontractor Acreo were subcontracted to construct the school's floors, which included the installation of Ravago's Ravatherm XPS X extruded polystyrene insulation board.
Ravago Ravatherm XPS X 300 SB was specified to insulate the 2,500m2 floor. A 250mm thickness was required and Acreo used two layers of 125mm on primary areas and 75mm and 150mm on the remainder.
The product has a declared lambda of 0.030 or 0.031 W/m2K. The lambda value measures a product's thermal conductivity: the lower the value, the bigger the reduction in heat loss.
This, coupled with Ravatherm XPS X 300 SB's 300 kPa compressive strength and closed cell structure, ensures a high loading performance and a low moisture uptake.
Ravatherm XPS X 300 SB is manufactured in the UK at Ravago's plant in King's Lynn, Norfolk.