Award-winning Linarte aluminium product range incorporates wood and lighting elements for flexible, easy-to-install facade designs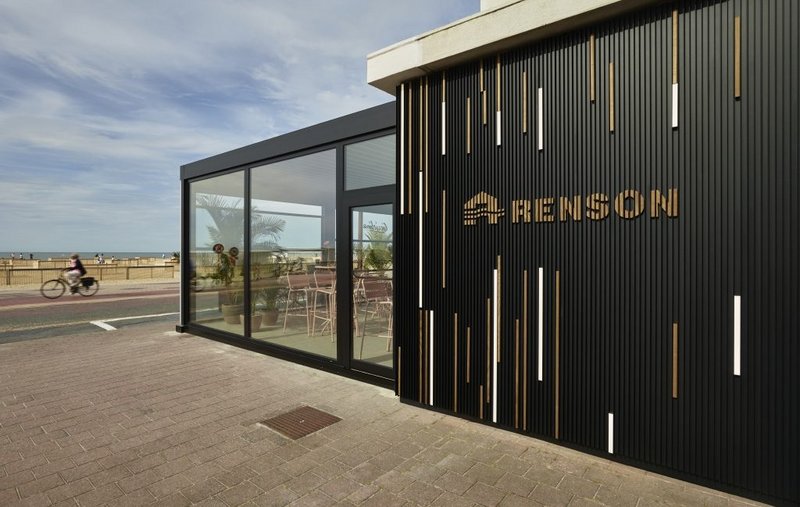 Renson's Linarte facade cladding is constructed from an aluminium bearing structure that is fitted with plastic clips. The profiles can be easily mounted within this structure.
Ventilation and cladding specialist Renson has utilised 50 years of experience in architectural products to develop an innovative, award-winning cladding product called Linarte.
Linarte is a vertical or horizontal cladding system that incorporates the strength and modernity of aluminium with the natural elements of wood and accents of LED lighting.
Architects can personalise the Linarte system for each installation so no two designs are the same. They can create a curved facade suitable for indoor or outdoor use and can even glaze into the profile channel. Other benefits include:
1. Installation
Linarte is easy and time-efficient to install thanks to a patented, invisible click system that eradicates the need for screws or any external (and visible) fixings.
The invisible clip system is also width-adjustable and easily replaceable.
2. Maintenance
The system is virtually maintenance free due to the powder-coated profiles that retain their colour and are easy to clean.
Renson recommends cleaning at least twice a year.
3. Personalisation
Linarte has multiple linear profiles available and they can be used individually or in combination.
Doors can be integrated smoothly into one tight facade surface and functional elements, such as intercoms and doorbells, are easily integrated.
LED lighting and natural wooden elements can be incorporated into the system as visual accents on the facade or for more practical signage.
4. Guarantees
Renson uses high quality materials and offers a five-year warranty covering all defects arising from normal use and maintenance.
There is a 10-year colour-fastness warranty covering the powder coating of aluminium components.
5. Lifespan and recycling
Aluminium cladding is environmentally friendly and has a reputation as a 'green metal' thanks to its 100 per cent and infinite recyclability.