Dramatic angled profiles and bold, modern finishes mark out the Parabola collection from Canadian washroom design brand Riobel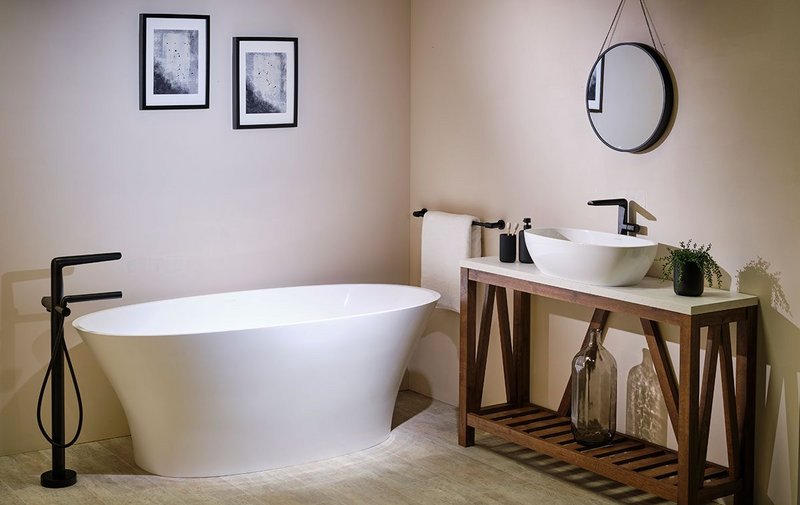 Parabola freestanding bath/shower mixer in Black with Victoria + Albert Barcelona tub.
Riobel's award-winning Parabola bathroom brassware collection is characterised by geometric shapes and unique angles.
The collection draws inspiration from a parabolic surface - the only surface that can focus multiple elements into a single point. The parabolic spout that gives the range its name emerges from a tubular sculpted body with a chamfered front, creating an original profile.
The nuanced details conceal precision engineering and bring something fresh and exciting to the bathroom. Parabola is available in two finishes: boldly sophisticated in Black and refined in Polished Chrome.
The Parabola range is comprehensive, covering most modern bathroom configurations, including bath and basin taps and mixers, shower fittings and matching accessories.
The signature piece is the Parabola freestanding bath/shower mixer. Matched to a contemporary freestanding bath, such as Victoria + Albert's Barcelona tub, the Parabola is the perfect centrepiece for any luxury bathroom.
The Riobel Parabola bathroom range was winner of the Industrial Design Bathroom Product category at 2020's Montreal Grands Prix du Design awards.
See the Parabola collection at the new London showroom at the Design Centre, Chelsea Harbour, London, which, alongside Riobel, also showcases Shaws of Darwen, Perrin & Rowe and Victoria + Albert brands under the banner House of Rohl.
For more information and technical support, visit riobel.design
Contact:
01952 221100
---