Installing tried-and-tested , independently accredited roofing insulation correctly validates its durability, thermal and fire protection and acoustic performance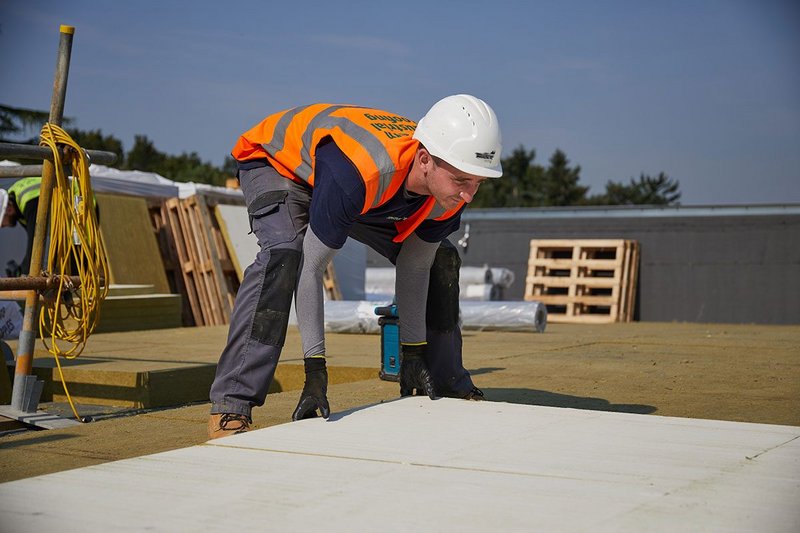 Cobham Free School in Elmbridge, Surrey: Over 2,000 square metres of Rockwool Hardrock Multi Fix (DD) flat roof insulation.
Rockwool Hardrock Multi-Fix Dual Density (DD) and Tapered flat roof solutions have been certified by the British Board of Agrément (BBA) following rigorous testing of their durability, thermal and fire performance.
Hardrock Multi-Fix is tried and trusted across the construction industry, but he independent accreditation gives specifiers and contractors additional confidence in the flat roof insulation solutions, validating their ability to meet Building Regulation requirements.
The BBA certification is the latest in a series of accreditations for Hardrock Multi-Fix (DD) and Tapered, which were developed to provide thermal, as well as fire and acoustic protection for flat roofs. Alongside achieving fire classification A2-s1,d0, Hardrock Multi-Fix meets the highest LPCB standards - LPS 1181: Part 1 Ext A.
Flat roofs are the fifth facade of a building, housing solar PV, green and blue roofs and social spaces, so they have more complex design challenges than vertical surfaces. Even where flat roofs are not used for any other purpose than to make the building watertight, prevention of rain noise is crucial.
By offering acoustic performance, as well as durability, thermal and fire capabilities that are now backed by the BBA, Hardrock Multi-Fix is an all-round solution for flat roof projects.
Rockwool Hardrock Multi-Fix is compatible with a range of bonded and mechanically fixed roof systems, including single-ply, EPDM and liquid membranes, bitumen and green roofs. The Tapered variant of the product is pre-cut to provide a fall in the roof level, aiding water management.