Architects Jessop and Cook have specified Sunsquare rooflights for their unique semi-subterranean outbuilding in the Grade II listed gardens of St John's College, Oxford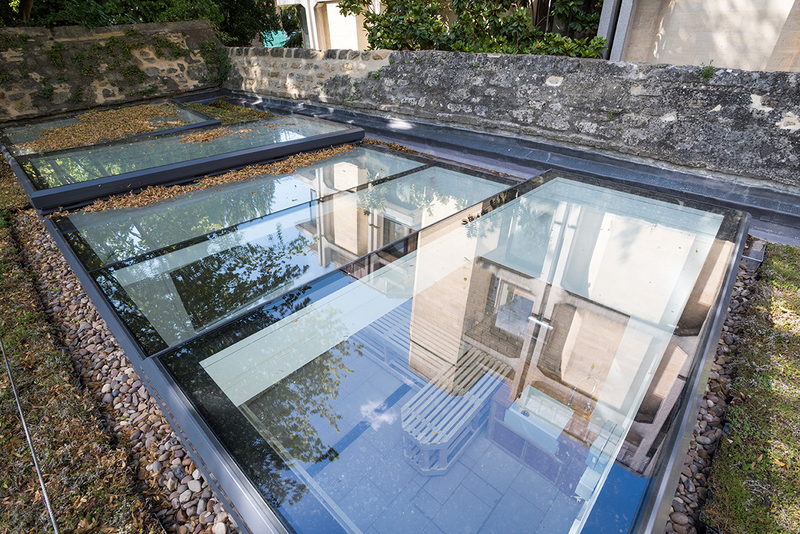 Sunsquare rooflights in the gardens of St John's College Oxford. A large part-fixed, part-opening rooflight allows light into darker areas.
Plans to transform a unique area of disused space within the University of Oxford's Grade II-listed gardens at St John's College involved designing a new outbuilding for its gardening staff that would function as an office, break room and greenhouse.
The challenge was to design a building that would sit in a small horse-shoe shaped space, set within three listed walls, yet deliver ample amounts of natural light for staff and for the growing of plants. It also had to remain completely unnoticed by passers-by - blending seamlessly with its gardens. It was no easy task given the unique space restrictions.
Designing a 'light' solution
Oxford-based architects Jessop and Cook developed designs for a 60sqm semi-subterranean building - one that would sit just below neighbouring walls, remaining invisible from outside the garden. However, given the space was small and almost completely enclosed, there was a risk it would feel poorly lit.
'We needed to find a skylight large enough to cover the majority of the roof space - opening it up and allowing in plenty of natural light, while also fitting with the building's design and creating the right growing conditions for the greenhouse area,' explains Martin Shaw, associate at Jessop and Cook Architects.
Already familiar with the Sunsquare range, the team opted for a custom-designed part-fixed, part-opening rooflight (2620x4250mm) for its ability to match perfectly with the building's low pitch, while still providing best-in-class thermal performance, safety and functionality. Providing the majority of the building's light, it was efficient enough to keep gardeners warm in winter, with an opening mechanism to provide much-needed ventilation in the summer.
Two smaller 1400x2000mm electronically opening Aero Vent skylights were also positioned over the break room, providing immediate access to fresh air.
Uncompromising safety
As well as aesthetics, the specification of the glass used within the rooflights was also a major concern. Because the new building sits slightly lower than the adjacent wall, with a green roof surrounding the skylights, Jessop and Cook had to consider the eventuality of someone gaining access to the roof. As the only rooflights in the world to hold a BSI Kitemark for safety, the Sunsquare range provided the reassurance the college needed.
Sunsquare's custom-made flat-roof skylights have helped get the best out of St John's new space. They provide an abundance of natural light for rooms that need it most (especially in the greenhouse area where solar gains are so important) and deliver the safety and thermal performance such a unique build demands.
For more information and technical support, visit: sunsquare.co.uk
Contact:
01284 846596
---