Bbiophilia and the rising importance of well-being in the design of the workplace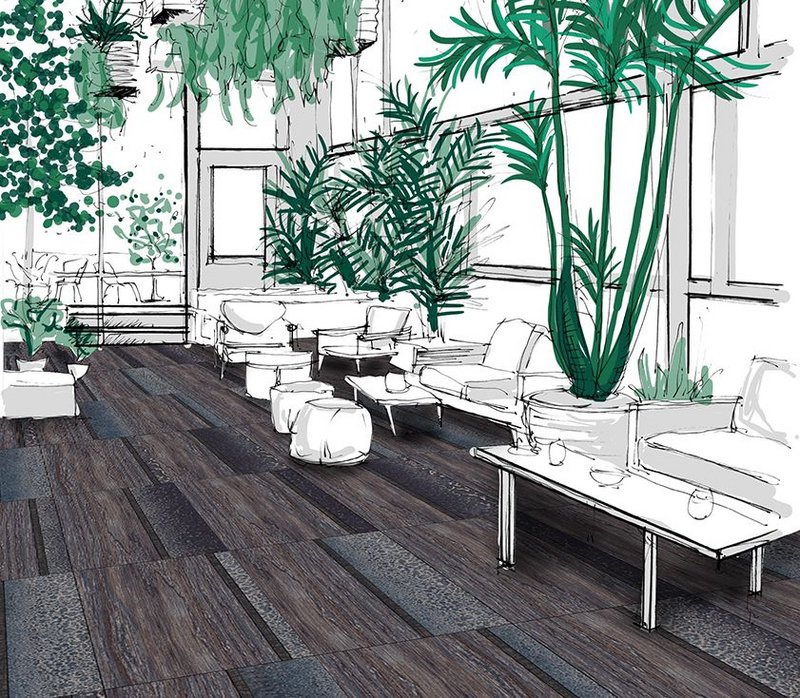 Visualisation of Water pattern in use with luxuriant planting.
TP Bennett's Nature Trail collection was inspired by biophilia (love for nature) and the rising importance of well-being in the design of the workplace. In particular, the team's entry focused on people's emotional connections with plants and their softening presence in the workplace.
'We thought of the biophilia movement and how we live in cities but crave nature,' says associate director Emily Hume. 'The idea was for Nature Trail to be a canvas for flooring and plants to come together in harmony.'
TP Bennett took as its themes the elements that plants need to thrive – water, sun and air – and created deliberately neutral patterns for a more timeless flooring design.
For Water, the design team used the Varied Block laying pattern with prominent use of an oak timber whose grain seemed to it reminiscent of flowing water. This was combined with both a dark and a highlight paler blue which provided a 'cliff-face' element next to the river. Envisaged in combination with plants that thrive in dappled light and forests such as ferns and mosses, this pattern was proposed as suitable for a retail setting.
The Sun design has a far lighter, warmer feel and is conceived for an atrium, reception or café setting, teamed with succulents and cacti. Here, the aim was to capture the geometry of sunlight through the use of the Polygon Key laying pattern, which suggested to the designers the facettes of a prism, in combination with two pines and a pale, resin-like design.
Air is a more linear flowing pattern generated by the Pleat laying pattern of parallelograms. These are arranged in shades of grey to give the idea of movement and the pattern is intended as suitable for circulation routes such as shopping centres or an atrium. TP Bennett imagines this as the background for plants that suggest movement and thrive in open spaces such as grasses.