An underground Sanifos pump has been specified for an extension to an off-mains rural cottage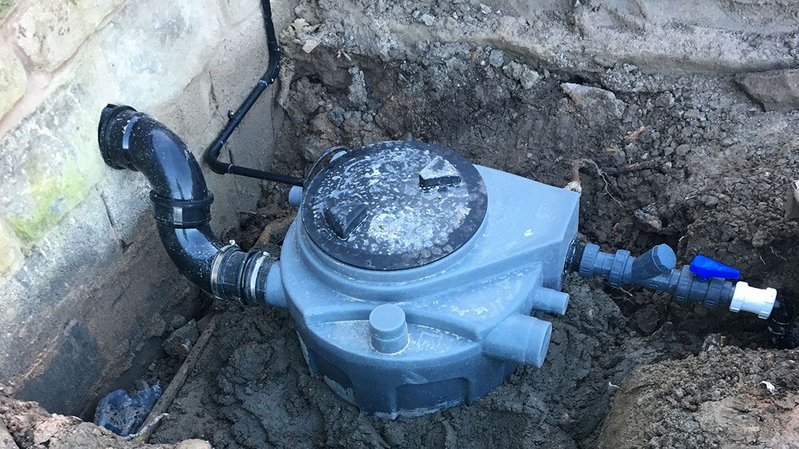 The Sanifos pump is sited underground and takes black and grey waste from multiple appliances in the extension, pumping it along the pipework to a large drain. A pump was used because there was insufficient gravity fall.
The team from Saniflo recently advised on a product that enabled a stalled project to go ahead at a stone cottage in the village of Grimsargh on the edge of the Trough of Bowland in Lancashire.
A Sanifos underground pump was specified and, while not at the glamorous end of the market, it nonetheless helped in the successful completion of a new bathroom and kitchen extension at the cottage.
With no mains drain servicing the house, all waste was discharged by gravity via drainpipes to a large drain connecting to a septic tank in the garden. Insufficient fall from the extension to the drain precluded just using extra drainage pipes, causing a temporary halt to the build.
A site survey by Saniflo highlighted a solution in the shape of a 110-litre Sanifos pump to pump away the waste from a shower, two WCs, basins, kitchen and washing machine. The unit was buried close to the extension and connected to standard 4 inch waste pipes inside the property, pumping the waste via a 40mm pipe to the existing large drain.
The quiet-operation pump solved the drainage issue and the extension was completed thanks in large part to the Sanifos pumping station.
Saniflo's Sanifos underground pumping stations are fitted externally below ground and are suitable for domestic and commercial use. With a macerator or vortex option, one pump or two, single-phase or three-phase motors, the Sanifos range can meet every need.
For more information and technical support, visit: saniflo.co.uk
Contact:
020 8842 0033
---