Individual installation and barrier components that are also designed to work together are key to creating safe washroom solutions that will stand the test of time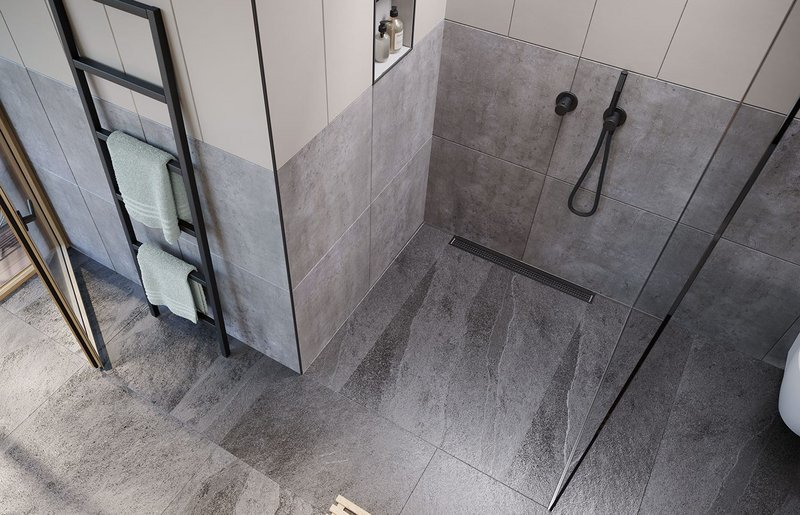 Schlüter Systems: Waterproofing membranes, underfloor heating, drainage systems, tile trims and drain grates are as important ingredients to a futureproof washroom as tiles, lighting and sanitaryware.
Barrier-free bathrooms with floor-level showers, easy-access sanitaryware and the provision of seating areas can offer a practical, futureproof solution for clients.
Creating a fully water tight bathroom that will last relies on each component working on its own - and as part of a system.
Schlüter Systems creates bathroom installation and waterproofing products that work best when used together. Here's what to specify for a futureproof bathroom:
1. Schlüter Ditra
The uncoupling membrane Schlüter Ditra serves as a waterproofing membrane and a vapour pressure equalisation layer, protecting tile or natural stone coverings from cracking or debonding.
2. Schlüter Ditra Heat E
The same features can be found in the underfloor heating system Schlüter Ditra Heat E, making it ideal for heated floors and walls in wetrooms with tile and stone coverings.
3. Schlüter Kerdi Line
Schlüter's prefabricated levelling and shower tray components are available with a point drainage system or a component linear drainage system.
The linear drainage system Schlüter Kerdi Line complies with BS EN 1253, providing a constant 50mm water seal and anti-blockage based on an 8mm ball bearing test. At just 78mm high, the most recent addition, the Kerdi Line G3 drain, offers a low-height solution.
4. Finishing products
Schlüter Systems has a selection of finishing products that come in matte black for a coordinated bathroom design, including protective tile trims, storage shelves and shower drain grates.
Whether you are designing a completely monochrome look, want to use black elements for bold contrasts or are choosing accents sparingly, there are plenty of options.
Specifying a fully warranted waterproofing system with Schlüter offers architects peace of mind and the knowledge that their designs will stand the test of time for clients.
For more information and technical support, visit schluter.co.uk
Contact:
01530 447723
---