A range of waterproofing and profile products from Schlüter Systems lies behind an impressive washroom refit in Kent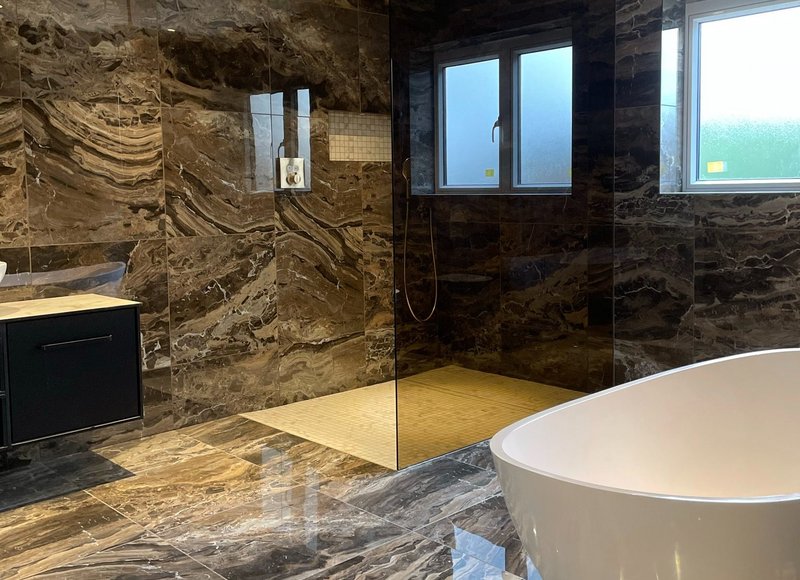 The finished bathroom has a linear drain, shower tray, waterproof membrane, tile profiles and storage shelf by Schlüter Systems.
A high-end bathroom project in New Barn, Longfield, Kent has utilised flagship products from Schlüter Systems.
The installation, by Daniel Berry of ATD Design Solutions, involved the protection of tiles in the shower area.
A Schlüter Kerdi Line linear drain and Kerdi Shower LTS sloped shower tray were used for level-entry access into the shower and Kerdi 200 membrane was added to the walls for guaranteed waterproofing.
Schlüter's Ditra Heat Duo is usually used to provide underfloor heating, but in this instance it was fitted without the heating cable to ensure a minimal build-up as well as providing uncoupling and acoustic reduction.
Installing the shower screen without penetrating the waterproofing or disrupting the run of tiling was achieved by specifying the Schlüter Deco SG shower glass channel profile.
The Schlüter Finec finishing corner profile was an important factor in protecting the tiles. The slim, elegant profile is made from high-quality materials to ensure tiles are futureproofed. Profiles in the Trendline bronze finish were used around the window frame and to box in the WC.
The client was keen to accentuate the unusual tile design, which features a rich veined marbled effect. A Schlüter Shelf in bronze was installed into the grout joint to complement the tiles and Schlüter profiles. It is a subtle and practical finishing touch.
Using a wide range of Schlüter products in unique ways has benefited the form and function of the bathroom while allowing the tiles to shine.
Find more on this case study at schluter.co.uk/projects
For more information and technical support, visit schluterspecifier.co.uk
Contact:
01530 447723
---