Bruton country estate renovation includes installation of Schlüter bathroom waterproofing and heating solutions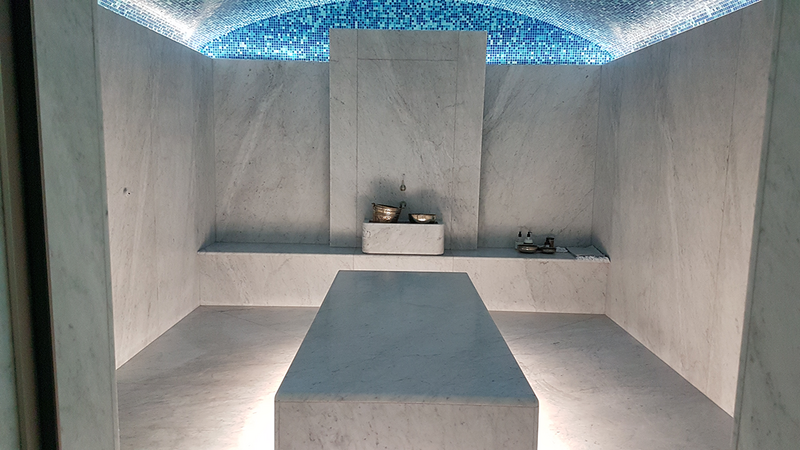 The Barton buildings south of the main house were converted into spa facilities.
Schlüter tile and stone installation systems have been specified for the renovation of The Newt in Somerset hotel and spa, a country estate in Bruton.
The project covered three areas: the main Hadspen House, which was built in the 17th century and remodelled in Georgian times; the conversion of the Barton buildings south of the main house into spa facilities; and The Farmyard, a former dairy farm. Work centred around futureproofing the historic buildings without impacting their architectural heritage.
The Schlüter Ditra Heat Duo electric under-tile heating system was installed in the Hadspen House bathrooms alongside the Schlüter Kerdi Line drainage system in the showers. The former features a studded uncoupling membrane to which heating cables can be clipped and held in place for even and consistent heating. SHC Tiling supplied the marble tiles.
Schlüter Kerdi Board, a multisurface tile substrate for walls, was used for the newly built spa facilities, including the changing room vanity units. The flexible backer board also provides a waterproof base for a portico in the spa, which was faced with 20mm Carrara marble. The Schlüter Kerdi Line drainage system also helped reduce height build up in the 17 Farmyard bathrooms.
For user comfort, a uniform look and a perfect spa experience, spa stone benches and seats were fitted with the Schlüter Ditra Heat Duo system and clad in Carrara marble. The spa installation was carried out by the Bristol Marble & Granite Co.
Crucial to the renovation was finding simple ways to incorporate modern fixtures and fittings seamlessly into buildings with deep roots in the past: contemporary design elements alongside original features. Schlüter's verstaile waterproofing and under-tile heating products have helped breathe new life into an estate already full of personality, ensuring it will be enjoyed for years to come.
For more information and technical support, visit: schluter.co.uk
Contact:
01530 447723
---