3D printing technology gets bolder as Dutch plan group of five regulation-compliant dwellings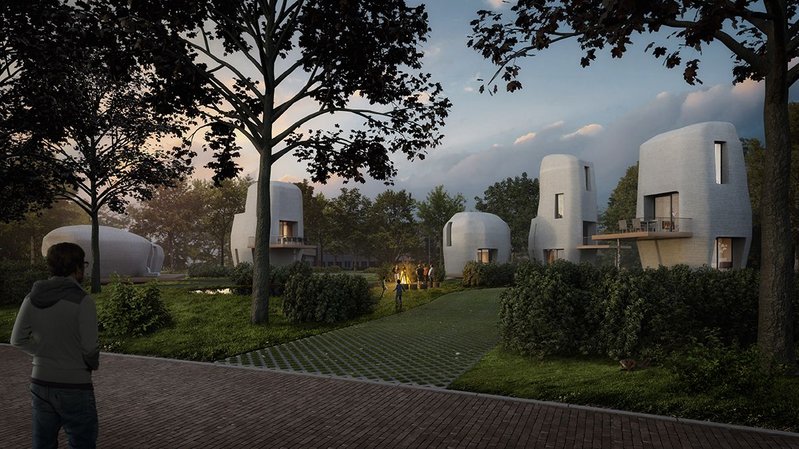 Dutch researchers are planning to build the first ever community of habitable 3D printed homes designed to conform to current building regulations. In a five-year industry/academic collaboration, a cluster of five boulder-shaped dwellings, of varying size and shape, will be constructed at Groenplaats Bosrijk park in Eindhoven.
The rock-shaped properties were designed by local architect Houben/Van Mierlo to resemble boulders deposited by a retreating ice sheet. They will be printed using a gantry-style 3D printer developed by the Technical University of Eindhoven.
With the city council and TU Eindhoven overseeing the project, other partners include main contractor and additive manufacturing pioneer Van Wijnen, engineer Witteveen + Bos, Saint Gobain subsidiary Weber Beamix which will develop the extruded concrete mix, and Vesteda which will let and manage the homes.
Construction techniques will be developed and refined throughout the course of the project to ensure compliance with building regulations. While the first home will be the simplest, with a single storey prefabricated off-site, the fifth building will rise to four storeys, printed entirely on site.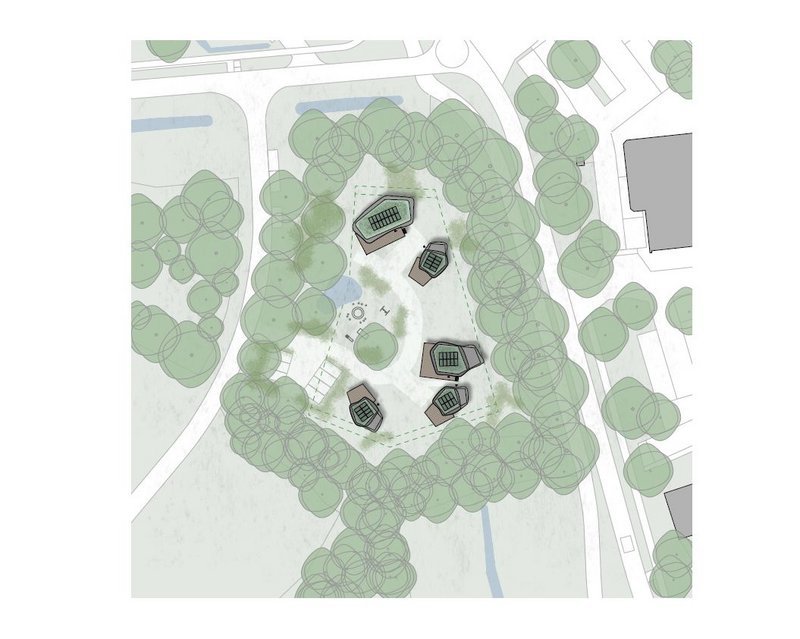 Site plan.
Jelle Houben, co-founder of Houben/Van Mierlo, told RIBAJ: 'The homes will need the right strength and durability characteristics to meet regulations. Van Wijnen will have significant input and will exploit its previous experience of testing 3D printed concrete in projects worldwide. All elements will be tested before they are installed to prove they meet requirements.'
Unlike previous 3D printing initiatives that have included connection joints between the inner and outer skins of external walls, here the skins will be printed separately to provide space for internal insulation that will improve thermal performance.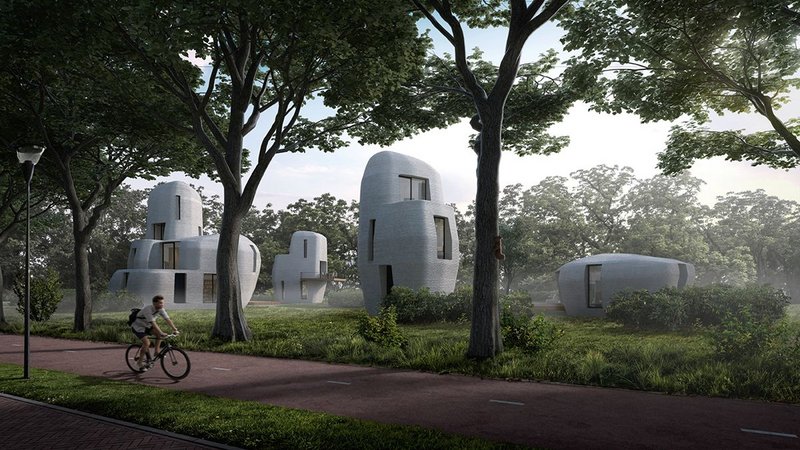 'The insulation is a foam concrete with zero cement to eradicate the embodied CO2 component,' said Houben. 'I initially had doubts about whether printing in concrete would sympathetic to the environment, but the innovations being tested show that it is.'
The boulder-like shapes were conceived to demonstrate the sculptural qualities of additive manufacturing, which makes it possible to realise almost any form. The printing method can be adapted to add texture and new features to walls. 'We can make super interesting textures – for example, if we slow down the printer head but keep delivering the same amount of mortar, it creates waves that flow out through the façade. We can add holes and other features to encourage biodiversity for bees and insects etc,' he concludes.
---