In an unregulated industry three things are crucial when architects put glass over people's heads, says leading manufacturer Sunsquare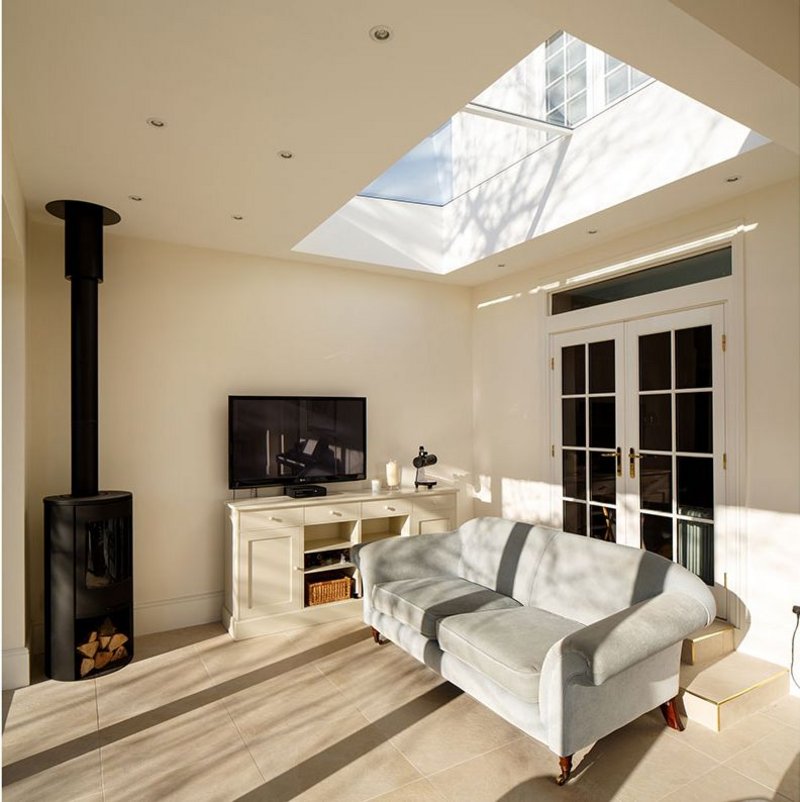 Skyview Multipane skylight by Sunsquare: All its rooflight products have BBA and BRE accreditation, ISO 9001 and ISO 14001 certification and a BSI Kitemark.
Whatever the project, from large commercial premises to a smaller residential refurbishment, customers want plenty of natural light and access to fresh air, which explains the rise in popularity of skylights. Thanks to advances in design, architects can find a rooflight to fit any size or specification but, in an unregulated industry, the basic assurance that a product is safe is harder to come by.
Safety and security are not areas that specifiers or end users should have to compromise on. People should be able to rest assured that their skylight has been manufactured properly using quality materials, that, whatever the weather, it won't break and that it won't leave them vulnerable to opportunistic intruders.
So, in the absence of mandatory industry standards, how can architects ensure safety for their clients?
Look for Secured by Design accreditation
The good news is that, when made correctly using quality materials, skylights can actually protect against unwanted criminal activity.
Secured by Design (SBD) accreditation is a police initiative that ensures products such as skylights are not only made to the highest safety standards, but that they keep pace with emerging crime trends. The initiative has reported crime reductions of up to 87 per cent on new developments (2017) and 61 per cent on major refurbishment projects (2009).
Sunsquare has been awarded SBD Police Preferred Specification status for its entire skylight range. Its products are regularly tested and its manufacturing facility inspected to ensure the highest levels of security and reliability, going above and beyond what is required by Part Q of Building Regulations and providing an extra level of safety assurance.
Check for independent product verification
In the absence of obligatory quality or safety standards, sourcing products that have been made properly can be challenging, particularly in an increasingly crowded market.
However, there are reputable manufacturers that guarantee the safety of their products by seeking their own third-party accreditation from organisations such as the BBA and BRE. Sunsquare has taken this one step further by working with quality assurance leader the BSI to help set the standard for flat-roof skylights in the UK. It is the only manufacturer in the world to hold a BSI Kitemark, which means its flat-roof skylights are regularly and rigorously tested for air permeability, weather tightness and wind resistance to ensure durability and performance levels. This enables specifiers to guarantee the efficiency, security and overall safety of Sunsquare products.
Research safety and effectiveness
Specifiers can also look at a skylight's makeup to determine its safety credentials. Skylights made using 'toughened' glass can present a serious risk of injury if they break - which they do. Laminated glass is the best and most reliable option on the market and Sunsquare uses it across its whole range. Laminated glass is incredibly hard to penetrate for burglars and it holds together even when broken, keeping the people below it 100 per cent safe. It also provides another layer of protection by blocking UV rays, which can bleach furniture and fittings and be harmful for people, too.
Design and thermal performance are also important. A skylight that has been thermally broken will provide a proper, effective barrier between indoor and outdoor temperatures. Without this, thermal bridging can occur, creating a build-up of unwanted condensation. Over time, this can cause irreparable damage, compromising a rooflight's overall safety and effectiveness.
From ISO 9001 and ISO 14001 certification to its BSI Kitemark and Secured by Design accreditation, Sunsquare provides the safety assurance specifiers require.
For more information and technical support, visit: sunsquare.co.uk
Contact:
01284 846596
---