Age, strength and longevity, plus a commitment to offsetting the impact of quarrying, mark out this phyllite slate roofing product from fibre cement, concrete and clay alternatives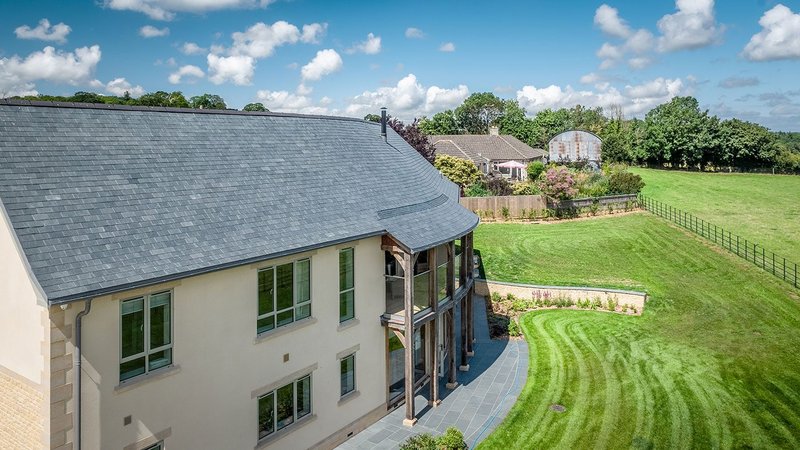 SSQ Riverstone phyllite roof at Compton Place new-build in Stalbridge, Dorset. Riverstone has the same grain, low water absorption and low calcium carbonate content as indigenous slate, but has greater strength and weather resistance.
What makes natural slate green? Two of its biggest advantages are its age and longevity.
The millions of years that products like natural slate - and phyllite, which is even older, and that SSQ supplies as its Riverstone range - have spent slowly developing underground have given them incredible strength and durability.
Quality slate and phyllite products can last multiple times longer than many other roofing materials as long as they are installed correctly.
Tiles made of fibre cement and concrete, both extremely common around the world, can last up to 30 years, while clay tiles can last 40 - considerably less than the lifetime of the average building.
In all three cases, that's considerably less than the lifetime of the average building. Natural slate, by contrast, can last as much as a century.
To make clay tiles, kilns are kept burning 24 hours a day. For ceramic and porcelain tiles the kilns have to be at higher temperatures. This accounts for major differences in carbon intensity between different roofing materials.
Concrete tiles create 0.19kg of CO2 per kilogram. Clay tiles produce 0.43kg. Natural slate contains far less - between 0.005 and 0.054kg.
SSQ's commitment to sustainability extends beyond the products it offers and how they're quarried. It takes steps to minimise its environmental impact in other ways, including investing in carbon offsetting.
In the past, the company has cut its carbon footprint by supporting the Gold Standard VER East Africa Borehole project, which provides clean drinking water to people in impoverished parts of Sub-Saharan Africa.
SSQ's investment allowed the Borehole project to significantly improve its energy efficiency to the value of 1,343 tonnes of carbon. SSQ continues to reduce its impact by investing in similar projects.
More recently, Spanish Slate Quarries (SSQ) has been incorporated into BRE Global's GreenBook of sustainable construction suppliers.
SSQ's Environmental Product Declaration meets the requirements of EN 15804:2012+A1:2013 and the BRE Global Scheme Document SD207.
SSQ offers architects a full range of natural slate and phyllite products and has a long track record providing roofs for heritage buildings around the UK.
For more information and technical support, visit ssqgroup.com

Contact:
020 8961 7725
info@ssq.co.uk
---