New-build overlooking Perquil River features phyllite slates installed to withstand the worst that an exposed site and the Cornish weather can throw at it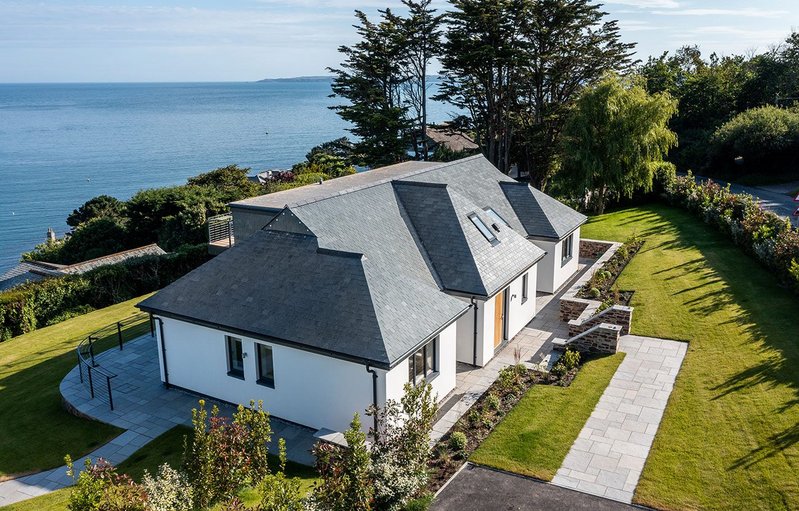 Standing firm; sitting pretty: SSQ Riverstone phyllite roofing at the new-build in St Mawes, Cornwall.
An impressive self-built home in St Mawes has brought modern architecture to Cornwall's southern coastline.
The site has panoramic views over the Percuil River to the south and is close to some of the county's most spectacular coastal scenery.
Its owners' original attempts to come up with a design that would conform with the area's strict planning regulations ended in failure. A second proposal met the same fate.
It wasn't until a third set of plans was submitted - including extensive use of Riverstone phyllite from SSQ - that the project got the go ahead.
Phyllite is a fine-grained metamorphic rock formed by the reconstitution of fine-grained, parent sedimentary rocks. It is harder, denser and stronger than any alternative roofing product, including slate.
Truro-based P Chapman Construction and roofing contractor Wessex Slate & Tile from Saint Columb worked on the project.
The roof was felt and battened at a 150mm gage, which allowed for a 100mm head lap to guard against the severe exposure of the south Cornish coast.
The roof area was then struck out using chalk lines at 815mm centres. This allowed the slates to be laid with square perp joints of between 3 and 5mm.
All the slates were then sorted and graded into three thicknesses: thick, medium and thin. The installers used the thick slates at the eave, then graded to thin at the top course to ensure a graded, aesthetically pleasing appearance.
The close mitred hips were cut from 400x300mm Riverstone Ultra (the thinnest, highest-quality Riverstone available).
This was essential, given the low eave height of the building and the stringent design protocols set by the detailed planning application.
The results were stunning and the client was delighted: 'The roof deserves an award,' he says. 'We get so many comments from passers-by. It's a work of art.'
SSQ can provide a full range of natural slate and phyllite products and has a long history of providing roofs for heritage buildings around the UK.
It owns one of the world's few phyllite quarries in La Repressa, Argentina, from where it sources Riverstone.
For more information and technical support, visit ssqgroup.com
Contact:
020 8961 7725
---