Reclaimed bricks stacked to dramatic effect in terrace extension by Bureau de Change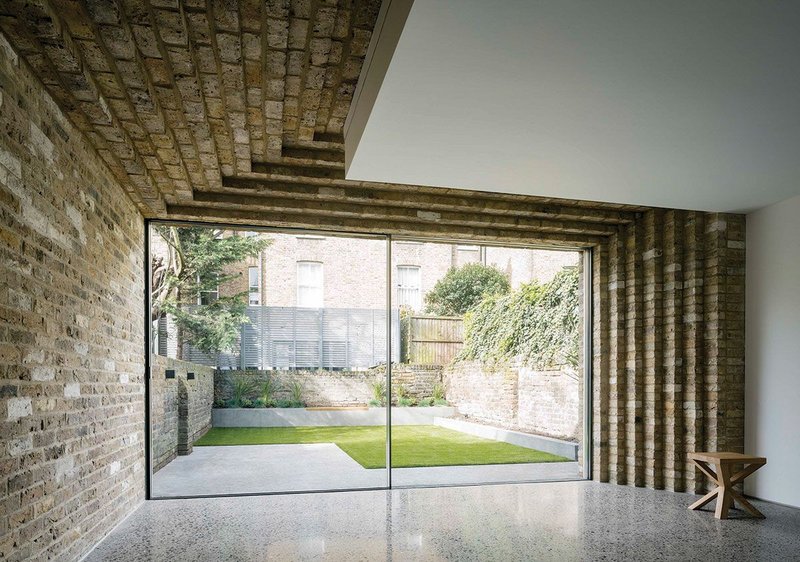 Brick slips create the illusion of a brick ceiling.

Credit: Ben Blossom
What: Extruded brick extension
Where: North London
The humble side return extension has been given a stackable upgrade at the Step House in north London, where reclaimed bricks have been stepped to dynamic effect.
Architect Bureau de Change switched the more common pitched glass roof treatment for an extruded brick extension on the terraced house that appears to melt away from the existing structure to create space for a new living area.
Billy Mavropoulos, co-founder and director of Bureau de Change, says: 'We wanted to design something more integrated into the existing fabric of the building and came up with the idea that the first floor is being pulled down and away from the facade; making it from bricks would create a stepped surface.'
The rhythmic stepping matches the profile of the rights of light diagram required to prevent shadows into the neighbouring property.
The bricks step in plan, as well as in section, to form the edge of a light well on one side of the property, designed to convey natural light into the living area and the dining room at the back of the existing house. Adding to the sense of movement, one wall of the extension peels away from the property boundary.
The standard London yellow stock bricks used were all reclaimed, mostly from the demolished rear ground floor of the building. To achieve column-free spans in the living area, the first floor is supported entirely by the stepped roof, which is embedded with several stepped structural steel beams that transfer loads down into steel columns in the walls.
'This was an interesting structural challenge to resolve,' says Mavropoulos. 'The detail is even more intricate at the edge of the light well where the roof steps in plan and in section. The beam had to be laser cut and welded in sections to run diagonally to follow the same shape.'
The technical bit...
Bricks for the roof of the extension are stuck to a 5mm layer of glass reinforced plastic on top of an 18mm layer of OSB engineered timber that's fixed to the steel frame.
Things get more clever on the stepped ceiling inside, where the illusion of a brick structure was created by hanging 20mm thick brick slips onto backer board attached to OSB. The slips were created by hand-carving the reclaimed bricks, says Mavropoulos: 'It was an interesting process, at the corners you see what looks like a full brick, but it has in fact been cut so that only two surfaces of the brick are intact, like a sleeve that covers the edge.' According to the architect, the toughest aspect of the entire job was forming the lintel for the light well, above the stepped glazing, where the solid bricks on the roof had to wrap around and transition seamlessly into brick slips on the ceiling inside. 'Everything had to remain in tune without any awkward joins. Let's say it was a big maths exercise,' he concludes.