This year's Surface Design Show mixes favourite features with a renewed emphasis on sustainability, the environmental impact of manufacturing and designing with a conscious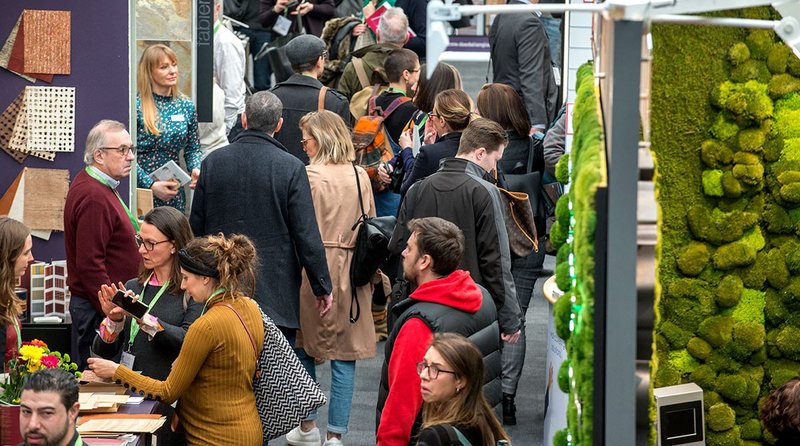 Surface Design Show 2020: Showcasing the best in surface material design, development, innovation and manufacturing.
Surface Design Show returns to London's Business Design Centre from 11 to 13 February 2020 to showcase the best in innovative surface design, manufacturing and development. This year's focus is on the trending topic 'Close to Home'.
Now in its fifteenth year, the show is a must-visit for architects, designers and specifiers looking for material inspiration from the UK and around the world. As well as over 180 exhibitors, visitors can also enjoy a packed speaker programme, including the popular Opening Night Debate.
Hosted by RIBA Journal's executive editor Eleanor Young, the Opening Night Debate, 'Climate Emergency: Three Winning Ways to Make a Project Sustainable', takes place on the first evening of the show. The panel features the winner and two finalists from the RIBA Stirling Prize Shortlist 2019: Goldsmith Street presented by Mikhail Riches; Cork House presented by Dido Milne of CSK Architects; and Nevill Holt Opera presented by Chris Watson of Witherford Watson Mann Architects. The Opening Night Debate is supported by RIBA.
The show's 'Close to Home' theme will look beyond aesthetics and into manufacturers' impact on the environment, from the processes used in mining or manufacture, through to the carbon footprint sustained during sales and distribution. Designing with a conscience will also be examined, from re-using waste materials to looking at what happens at the end of a product's lifecycle.
Returning features of the show include: Stone Gallery, supported by the leading industry body Stone Federation Great Britain; Light School, a key component of the show reflecting the fact that London is the world's capital for lighting design specification; and the New Talent section, which promotes up-and-coming designers and is curated by Jennifer Castoldi, chief creative director at Trendease International.
The winners of the prestigious Surface Design Awards will also be revealed at the show on Thursday 13 February. Renowned practices including Steven Holl Architects, Mikhail Riches, AECOM, WilkinsonEyre and Chris Dyson Architects are among those shortlisted for 2020 Surface Design Awards, which exemplify the creative use of surface materials and lighting. There are 39 projects across 14 categories in total, from retail and public buildings to commercial projects and housing, including new categories in public realm and affordable housing for 2020. Demonstrating the truly international reach of the awards, now in their sixth year, projects on the shortlist span 13 countries from 34 different organisations with emerging practices represented as well as established firms.
The 2020 judging panel of industry experts is co-chaired by Paul Priestman from PriestmanGoode and Amin Taha from Groupwork. The remaining judges are Nikki Barton, British Airways; Sean Griffiths, Modern Architect; Charles Holland, Charles Holland Architects; Glenn Johnson, Collins Aerospace; Daniel Mota Veiga, Heiko Creative, and Steve Webb, Webb Yates Engineers.
Surface Design Show 2020 #SDS20 runs from Tuesday 11 to Thursday 13 February at Business Design Centre, 52 Upper Street, London
N1 0QH. Tickets are free for professionals and registration is now open at: surfacedesignshow.com/register
---