The event that brings together architects and designers to discover the best in material innovation is back this year with a Shaping Communities theme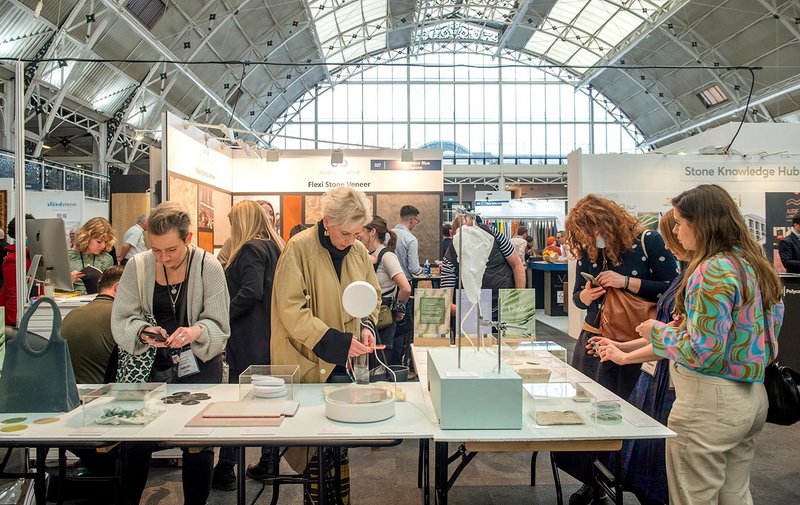 Surface Design Show showcases new materials, up-to-date technologies and all the latest trends.
This year's Surface Design Show, the event that showcases the best in material innovation, will be held from 7 to 9 February at London's Business Design Centre.
A well established part of the design calendar for nearly 20 years, the show provides an opportunity for material experts and the architectural and design community to come together under one roof.
Visitors to Surface Design Show 2023 will be inspired by over 150 exhibitors, many of whom will be launching new products, diverse displays of surface-based installations and a comprehensive speaker programme featuring accomplished industry professionals, passionate about the future of surface design.
Supporting emerging material designers has always been important to Surface Design Show. The New Talent section will, for the fourth year in a row, be held in partnership with Trendease International. Its chief creative director, Jennifer Castoldi, will be curating over 30 'New Talents' this year.
The section will include the 'class of 23' showcasing a mix of biomaterials, natural materials, digital print, textiles, furniture, wallcoverings, weaving and biopolymers.
Surface Design Show also welcomes back Surface Spotlight Live (SSL), an area that gives visitors a chance to touch and compare the latest material prototypes. Centred around this year's theme of Shaping Communities, SSL will highlight the importance of new exchanges between surfaces, people and environments. This section of the show will be curated by leading trend and colour expert Sally Angharad.
The talks programme will be happening on the Main Stage, designed by Emily Skinner of recycling pioneers Smile Plastics, and will host 18 presentations and feature more than 40 speakers, inspiring a professional audience of architects and designers.
Setting the tone for the live events programme will be the Opening Night Debate, hosted this year by Jonathan Smales, executive chairman with Human Nature, a leading proponent of sustainable development. The debate, which has CDUK as the official partner, will question how architecture and interior design professions are dealing with the Show's theme of Shaping Communities.
Over the two-and-a-half days, the Main Stage will host a range of debates, panels, trend forecasts and insights into the latest surface design innovations. It will also be the venue for the Legends Live series of 'in conversations' in partnership with Mix Interiors, where industry leaders interview someone they admire.
Another popular element of the show is the Surface Design Awards. Now in their 11th year, they continue to set a benchmark for architectural and design achievements across the world. More than 110 projects were entered into the 2023 Surface Design Awards from 24 different countries.
The BAFTA Headquarters in London by Benedetti Architects, which scooped the Supreme Winner award in 2022, set the standard for excellence in surface design. Following the success of its debut last year, the Architectural Photography category returns once more for 2023.
Surface Design Show 2023 encourages a meaningful exchange of ideas between manufacturers and the marketplace to further material innovation.
Surface Design Show 2023 will be at Business Design Centre, 52 Upper Street, London N1 0QH from 7 to 9 February 2023. Tickets are free for professionals and registration is now open at: surfacedesignshow.com/register
---