Free-to-use resource for design, manufacture and construction professionals brings together latest information on the use of wood in construction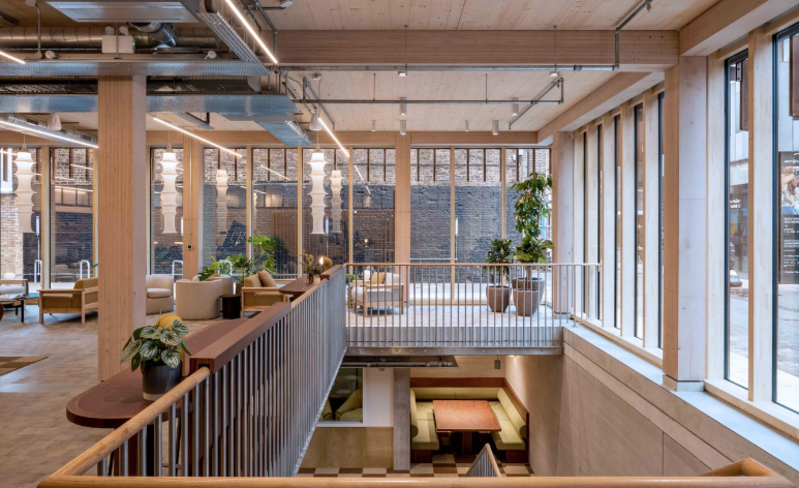 The Black & White Building, Waugh Thistleton architects. Fully engineered timber office building.

Credit: Images courtesy of AHEC. Photography by Ed Reeve
The timber industry has launched a comprehensive new fire safety website: Fire Safety: Wood in Construction.
It gives users a free, single point of access to information and guidance on this multi-faceted and safety-critical subject and is designed for all construction professionals.
The site has been developed as a collaborative project between Swedish Wood, Timber Development UK (TDUK) and the Structural Timber Association (STA), with a commitment to a periodic review and update curation process to reflect any changes in regulation, outcomes of latest research and industry guidance.
The information in this first iteration has been provided by technical and industry experts from the UK and Sweden, reviewed by a separate expert group drawn from the UK timber industry and independent consultants and curated by Julie Bregulla, consultant to Swedish Wood.
Fire safety design can take many different pathways, influenced by such factors as architectural vision, client demands and product choices. This site gives the user underpinning principles and approaches, as well as background references and cross-links to further advice and guidance, to provide them with context and UK industry resources in support of their wood projects.
'The most important thing is to provide designers with the principles of timber design for fire safety, not try to do the design for them,' says David Hopkins, CEO of TDUK. 'We cannot stress that enough.'
'Understanding fire safety principles underpins good design, says Bregulla. 'We hope this website will bring an accessible and flexible resource to the wider community to inform their design processes with timber solutions and facilitate their wider supply chain collaborations.'
Referencing European standards where appropriate, but with a focus on UK regulations and standards, the site is designed so that a range of different users can explore subjects at different levels of detail - from architects and structural engineers to building owners and the many stakeholders making successful timber projects possible.
Although the site allows navigation to specific areas, users are encouraged to follow the suggested topic flow site map to get a good understanding of the inter-connectedness and multi-disciplinary nature of fire safety.
'This site brings together a wealth of knowledge and expertise from across the construction spectrum,' says Hopkins. 'It is one of many projects we are working on to try and reduce barriers to the use of timber in construction.'
For Andrew Carpenter, STA CEO, true collaboration has been key. 'We will continue to work with our colleagues at Swedish Wood to promote best practice in all areas of timber safety and design.'
'This important, independently verified, website forms part of our aim to help UK building professionals in the construction sector access factual information concerning timber and fire safety,' says Anna Ryberg Ågren, director of Swedish Wood, 'as well as to be able to link to like-minded information on a European level.'
The partners in the website have a robust process for reviewing and curating the site. Feedback on omissions, or links to further research that could be considered for inclusion, is welcome (via the Feedback form) and there are plans for regular updates.
For more information, visit Fire Safety: Wood in Construction
---