Steel and concrete megaframe supports free-standing, three-floor CLT megafloors to create world's tallest hybrid timber tower in Sydney, Australia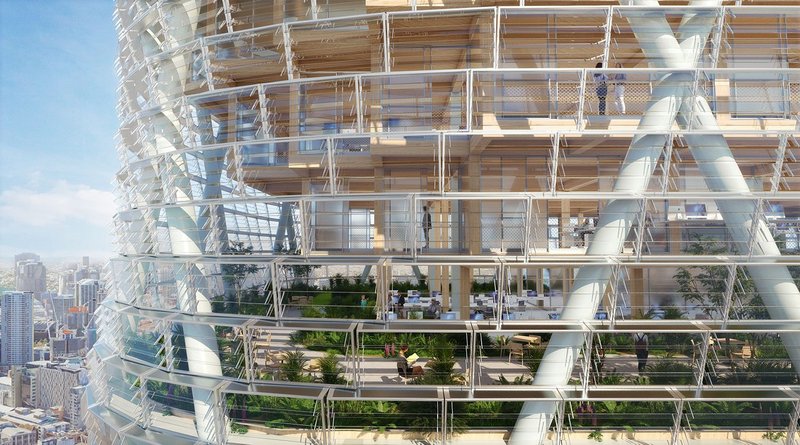 Atlassian Central is located in Sydney's Tech Central, an innovation district designed to provide up to 25 hectares of space for established and start up tech companies.

Credit: SHoP
The 39-storey development, currently under construction and located in the Tech Central precinct in Sydney, will provide a new Australian headquarters for software company Atlassian. A youth hostel on the lower five levels will be integrated into the 1906 heritage-listed Parcels Shed building.
The tower's superstructure, developed in collaboration with local practice BVN and structural engineer Eckersley O'Callaghan and TTW, comprises a steel and concrete 'mega frame' supporting a series of 'mega floors' positioned every four storeys. A steel and glass exoskeleton façade wraps around the outside.
The mega floors each support a giant freestanding three-floor timber insertion constructed in cross-laminated timber (CLT). The mega floorsdivide the tower vertically into separate 'neighbourhoods' incorporating a mix of indoor and outdoor spaces, including planted terraces.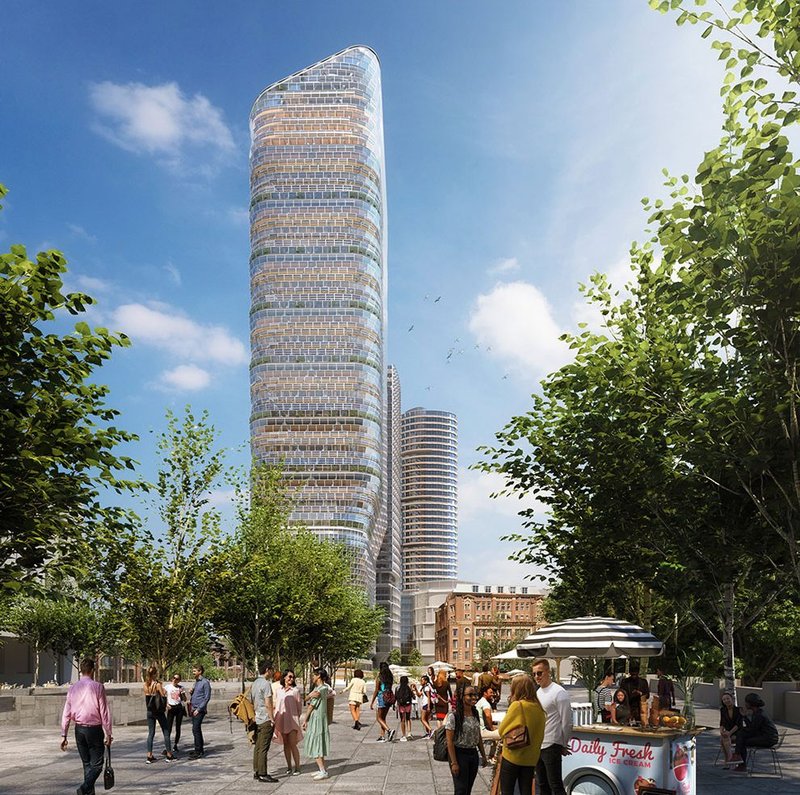 The 'mega floors' support a series of elevated external planted terraces and form a key part of the fire protection strategy.

Credit: SHoP
According to Andreia Teixeira, associate principal at SHoP, the structural scheme provides a 'hierarchy of structural integrity' and achieves the level of fire compartmentation needed to deal with predicted load cases.
The mass timber inserts are set back from the mega frame and entirely free of interior steel columns. 'This strategy allows the CLT structures to exhibit flexibility and adaptability in both form and function, which is one of the great advantages of building in mass timber,' said Teixeira.
The steel exoskeleton's semi-transparent appearance maximises the architectural effect of the timber, Teixeir added: 'The bold, yet graceful presence of the structural exoskeleton is a key element of the tower's architectural expression, the contrast of its diamond patterning and strong horizontals will give the tower a signature look on the Sydney skyline.'
A vital component of the structural design is a transfer structure for the tower designed to enable the retention of the historic Parcels Shed below. Once part of Sydney Central Station, the building took deliveries of parcels until the early 1980s and today accommodates the Railway Square youth hostel.
Free-standing three-storey-high CLT structures are supported on each of the steel and concrete 'mega floors'.

Credit: SHoP
Perimeter loads are transferred to the tower's concrete core and two mega columns at the northern end of the site, reducing the footprint of structure intersecting the historic building.
Fire separation in the tower is provided by the mega floors positioned every four floors. In addition, every timber slab is fire protected, to both de-risk the potential spread of fire between floors and enable the use of exposed structural glulam beams and columns and CLT soffits in the atrium.
The hybrid timber frame will help cut embodied carbon on the project by an estimated 50 per cent during construction, versus a traditional tower. Furthermore, solar panels in the facade form part of a plan to exploit 100 percent renewables, and in-built louvres will help reduce internal heat gain.