Form follows environment in Kirkland Fraser Moor's low carbon design where a slice of Hertfordshire landscape rolls up and over the roof. The house was built in wet cast Portland stone, manufactured by Vobster Architectural and supplied by Taylor Maxwell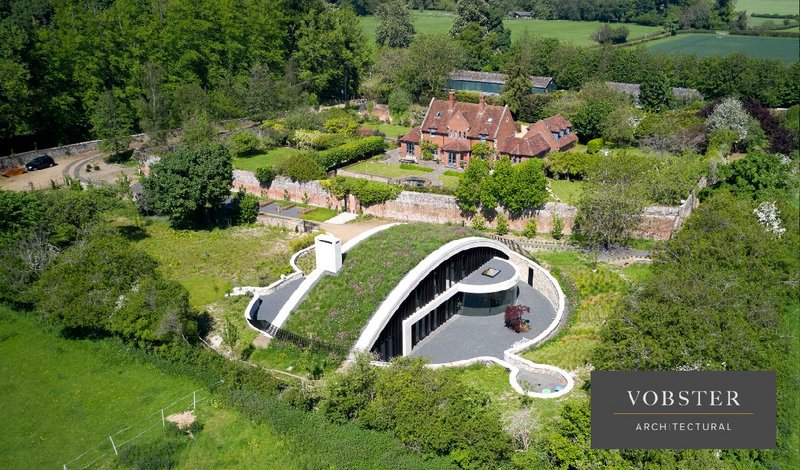 Cast stone, with its high compressive strength, made the extensive span of the building possible.
Ashraya is an innovative and highly sustainable house tucked away in the hills near the village of Aldbury in rural Hertfordshire.
Designed by architects Kirkland Fraser Moor, the building nestles low in the ground and is sheltered by a grass-covered arch.
The surroundings are an important and integral part of the concept: Ashraya means 'shelter of peace'.
The 510m² residence is low carbon with a fully glazed facade. On both sides, doors open out onto courtyards and the historic flint wall of an adjacent walled garden.
The exterior conceals a home that spans three levels and has been built to Paragraph 80 of the National Planning Policy Framework, which allows 'construction of stand-alone rural houses if the design is of exceptional quality'.
The sunken ground level is open plan and contains the living areas under an exposed timber roof. Downstairs, a basement level comprises a studio, snooker room and a den that can be reached by a slide.
Taylor Maxwell worked with cast stone manufacturer Vobster Architectural to design and supply wet cast Portland stone for the project.
It was selected because it has the appearance of natural stone, but can be produced in larger pieces and reinforced with fixing brackets.
Natural stone would not have been able to support the weight of the masonry above or create the desired spans.
When tested to the relevant British Standard, the compressive strength results of Vobster Architectural's wet cast stone can be up to 200 per cent higher than the requirement, with measurements in excess of 50 MPa. Due to its strength, no additional support was required.
The stone was precast, which meant a quick installation time on site and little wastage. It was installed by specialists Henley Stone.
The house was completed in 2021.
For more information and technical support, visit taylormaxwell.co.uk
Contact:
0203 794 9377
enquiries@taylor.maxwell.co.uk
---