A bright buff brick, cast stone and anthracite grey metal cladding specification - sourced from a single supplier - creates a property of striking facades and elegant interiors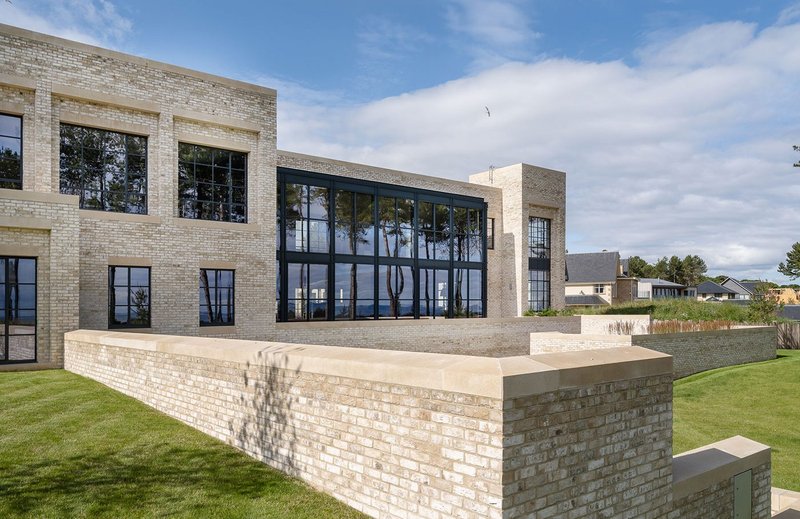 Taylor Maxwell supplied facing bricks, Pro Clad brick cladding, Anvil metal cladding and wet cast stone for the Kings Cairn property in East Lothian.
Kings Cairn is a bespoke residential property in Archerfield near Edinburgh.
It was designed by local practice Rory Gibson Architects for clients who were keen to have a modern, warehouse-style home with brick facades. The main contractor was Prime Property Ventures.
First step in the design process was a visit to brick, timber, cladding and masonry supplier Taylor Maxwell in Edinburgh to discuss material options.
A bright, buff brick was selected for the external facade. The client also wanted bricks to feature internally so the Pro Clad brick cladding system was specified.
Pro Clad allows for bricks used externally to be made into brick slips for use on internal walls. This is much simpler than using traditional bricks in interiors and provided an easier way to bring the warehouse look into the living areas.
After researching Victorian warehouses and contemporary residential developments, the design team agreed to include masonry on the external elevations.
Wet cast medium etched Bathstone from Vobster Architectural was selected. Its colour and texture partners well with the main facade's facing bricks and is a robust, durable choice for exposed locations like this one.
Anvil metal cladding in a recessed joint fix system was added to the design of the first floor and provides a contrast to the light brick facade.
Its polyester powder-coated anthracite grey finish with colour-matched fixings creates a crisp appearance. The same colour was specifed for the metal windows, garage doors and internally for the staircases for a fully cohesive design.
Kings Cairn is now recognised for its outstanding design and has received a nomination in the 2023 Brick Development Association Brick Awards' Individual Housing Development category.
Find more on this case study at taylormaxwell.co.uk/projects/kings-cairn
For more information and technical support, visit taylormaxwell.co.uk

Contact:
0203 794 9377
enquiries@taylor.maxwell.co.uk
---