Tessera Nexus carpet tiles help coalesce multi-purpose areas into cohesive, integrated workplaces that foster communication, participation and quiet reflection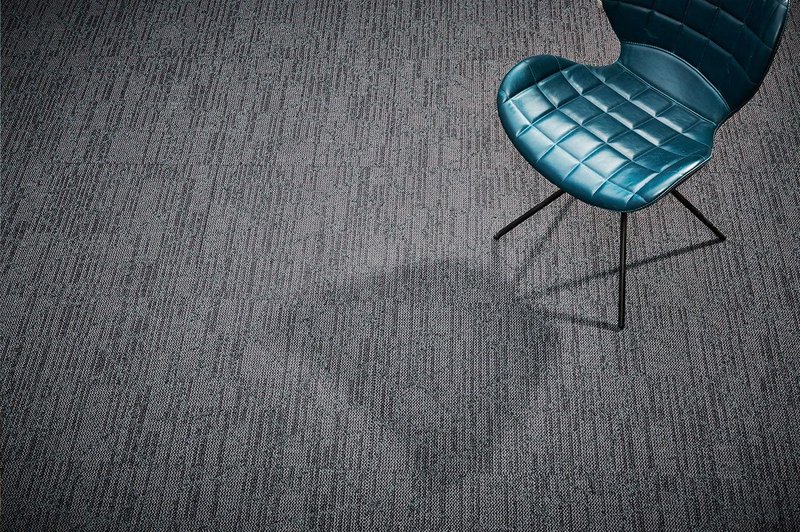 Forbo's Tessera Nexus carpet tiles in Agenda 3500.
Poorly designed offices can have a detrimental effect on productivity and employee engagement so when designing a workplace careful attention needs to be paid to office layout and specification - including flooring.
The right flooring can help to connect multiple areas within one space, encouraging productive working practices. Some floor coverings are designed to work alongside each other to create fully integrated schemes.
Walkways, breakout areas and tea and coffee point facilities demand a practical and durable product, such as vinyl or linoleum, that can withstand the heavy footfall and be cleaned easily. It can be installed alongside carpet tiles in adjoining working areas or meeting rooms, which need warmer, more comfortable floor coverings with improved acoustics.
Carpet tiles are one of the most effective office flooring solutions because their modular format lends itself to fast installation and allows office plans to be adapted easily to suit ever-evolving workspaces. The design of carpet tiles evolves constantly too, reflecting changing interiors trends and the need to encourage effective communication.
Forbo's new Tessera Nexus collection has been conceived as a flexible tool to help unite multi-purpose spaces into one interconnected whole. Its metallic web overlay design on a striated ground creates a network of linear connections that reflects the changing focus of the workplace. Drawing together simple colours, elements and tones, Tessera Nexus gives designers the freedom to create connections across an interior - subtly linking spaces for quiet reflection or group collaboration.
The tile features metallic Invista Antron Lumena carpet fibres from the Reflect palette, which add a luxury sheen and modern, fluid texture for a softer, less corporate feel, blurring the boundaries between formal and informal design.
There are nine colours in the collection, ranging from classic neutral to on-trend light and dark hues. The multi-height loop carpet tile range can also be installed alongside a variety of Forbo's other floor coverings, including Tessera Layout and Allura Flex LVT.
Find out more about the collection at forbo-flooring.co.uk/tessera-nexus
For more information and technical support, visit forbo-flooring.co.uk
Contact:
01773 744121
---