An 18-storey hotel is about to become the world's tallest timber tower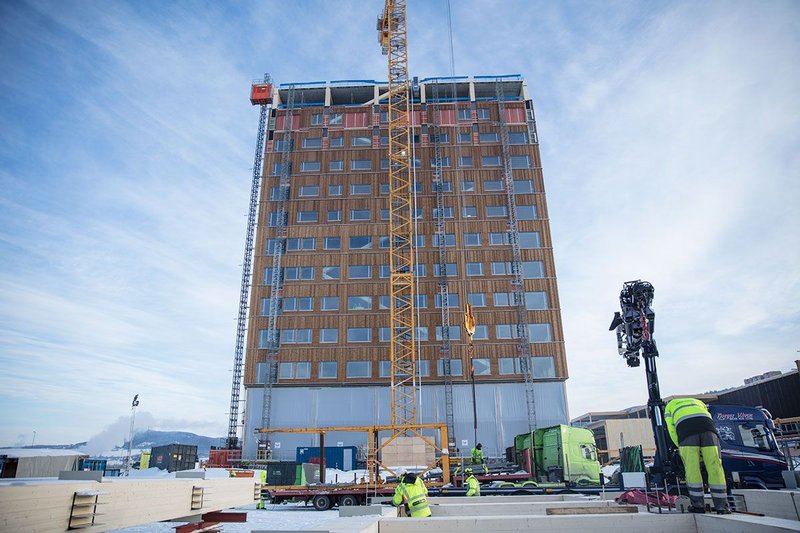 With a population of just 10,000, the unassuming Norwegian town of Brumunddal is an unlikely location for the world's tallest timber tower, which at 80m high will dwarf its closest rival by 30m.
The Mjøstårnet hotel is the vision of former childhood resident Arthur Buchardt, now a successful businessman who wanted to exploit the local timber industry and the latest construction techniques to build a super-sustainable landmark in his home town.
The 18-storey structure is based around a perimeter frame of glulam columns, beams and diagonals that brace the external walls and carry vertical and horizontal loads. A cross-laminated timber core holds three elevators and two staircases.
There are about 400 giant glulam elements in total, the biggest of which has a cross section of 1.5m x 0.6m.
Timber supplier and installer Moelven developed a new and untested assembly technique for the project. This is designed to fix the glulam elements together on site, rather than have to build trial assembles in advance in the factory.
The method helps cut costs and reduces production time by at least 25 per cent says Moelven CEO Rune Abrahamsen: 'The need to assemble main structures and trusses in the factory to ensure that everything fits is expensive and delays production. We have introduced small but important changes to our CNC machinery and internal routines that make it possible to fabricate extremely precise elements that can be relied on for direct assembly on site without any form of pre-assembly.'
During construction of the frame, only one glulam element was found to be incorrect and had to be taken down using a chainsaw. 'Such a limited intervention made the project a success in our eyes; we believe this will become the future assembly technique for such tall buildings,' he adds.
One major innovation is the tower's engineering. The giant glulams create a very stiff and strong structure but their relative lightness make the building vulnerable to accelerations and sway, which could make occupants feel nauseous. To counter this, concrete floor slabs were introduced at levels 12 and above to increase its weight and improve dynamics.
Efforts to include as much timber in the tower as possible resulted in the installation of special hollow core timber composite floor cassettes on levels one to 11. These are made of glulam and laminated veneer lumber (LVL) and able to span 7.5m across.
'The cassettes are comparable in strength to concrete hollow core decks, but the timber makes them much lighter and environmentally friendly, although the cost is greater,' says Abrahamsen.
The Mjøstårnet tower is due to open next March.