A simple palette of sand-coated grained brickwork, light coloured mortar and horizontal bands in precast GRC break up the stepped form and massing of Student Castle Brighton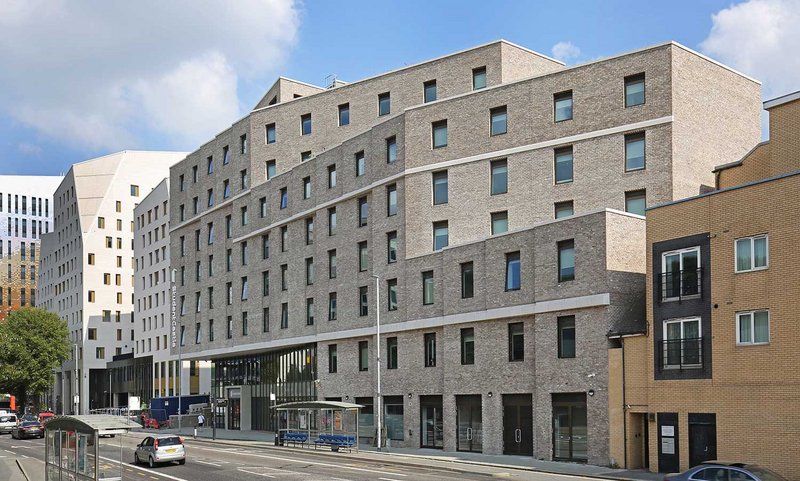 Vandersanden Anicius brick at Student Castle, Brighton: 'We liked the idea of a more natural and irregular material.'
International design practice Hassell has designed a nine-storey mixed use building in Brighton, East Sussex for student accommodation provider Student Castle.
Located in a prominent location on Pelham Terrace in Lewes Road at the heart of the resort's student district, the building includes student accommodation, a new home for the Centre for Inclusive Music and a local community hub space.
Although the scale of the building is substantially larger than the buildings previously on the site, its massing was carefully managed by creating a scheme with a stepped and staggered zigzag form.
To support and strengthen the architectural composition, the materials were reduced to a simple palette.
Vandersanden's Anicius hand-formed facing brick wraps all sides of the building - a light coloured, slightly indented 10mm mortar joint enlivening the whole - its use and colouration tying the building into the local architectural context.
The brick facades are broken and capped by a series of horizontal bands and copings formed from white precast glass reinforced concrete (GRC) sections, setting out the horizontal order and announcing breaks in the building's geometry.
The aesthetic is further enhanced by dark bronze coloured aluminium sections framing the windows. Notably, all window reveals are brick, including the cills; an important feature of the project.
The selection of the brick began with a brainstorming session to look at different ranges and options.
'We knew an engineered brick look wouldn't be suitable,' says Tiago Arieira, project architect at Hassell. 'We chose Vandersanden's Anicius brick because it was dark, but also had a slight white softness. We liked the idea of a more natural and irregular material with its sand-coated, grained structure.'
One of the biggest design challenges with the brickwork was creating the multiple corners that result from the zigzag detailing that allows sea views from the terraces.
'Many of the junctions are not at right angles, so conventional brick joints would have been impractical,' explains Arieira. 'Vandersanden's sales team were very helpful from the beginning. We talked about the different angles, how we were looking to achieve neat edges and worked out that the bricks could be cut and the corner bricks formed off-site to achieve a precise finish that would also save time with site installation.'
The desired outcome was achieved using Revit digital software to map every angle at every level and to quantify the number of bricks and the exact mitre that had to be formed for each junction.
The distances between the windows and the heights of the brick courses were also carefully calculated to ensure a precise aesthetic.
'On site, the solution worked well and, because everything to do with the brickwork was carefully pre-planned, there were no issues during construction,' says Arieira.
'The process worked because of a strong collaboration from the early stages. Vandersanden understood their product and were able to give us the support we needed in achieving our design vision.' The project was completed in 2021.
Find more on this case study at vandersanden.com/student-castle
For more information and technical support, visit vandersanden.com/en-uk
Contact:
01954 268075
---