After three previous nominations, the practice has won this year's prize for a simple-looking yet spatially complex building that will hopefully open the door to it winning future projects for less exclusive clientele
It's fourth time lucky for Níall McLaughlin Architects with its win for New Library at Magdalene College, Cambridge. This ostensibly modular building conjures something quite unique from its design of mass spruce timber, handmade brick and oak – materials that embed it for posterity into its sensitive context overlooking the medieval Fellows Garden, aside the rear (and much better face) of Magdalene's otherwise oddly remodelled 17th century Pepys Library.
Its arrangement of 12 regular squares in plan tessellates deftly around an edge site Master's Lodge, the college's pet graveyard and two ancient trees. Internally, it is bathed in similarly modulated light and natural air filtering down from the many gabled skylights. An oak-lined, book-filled interior becomes the setting for a play of sunlight that, over time, silently works its way across a clever section, by turn dropping away or opening out or up, constantly enriching the reader's experience. You can read about it in more detail here.
This Stirling Prize win has in fact been a decade in the making, with McLaughlin previously nominated for his beautifully simple, soft Bishop Edward King Chapel outside Oxford in 2013 and the sharply-crafted Sultan Nazrin Shah Centre for Worcester College Oxford in 2018. His competition win for student accommodation at Oxford's Somerville College in 2011 clearly left college deans in no doubt as to his ability to design confidently and contextually.
The firm has since completed or is on site with a dozen other Oxbridge projects and has created four masterplans for both universities. It's hard to think of a practice currently doing more in this albeit rarefied field; McLaughlin is a man with the measure of his clients. Accepting the award Niall McLaughlin said: 'The college created the possibility for success... we were asked to build for the long term.'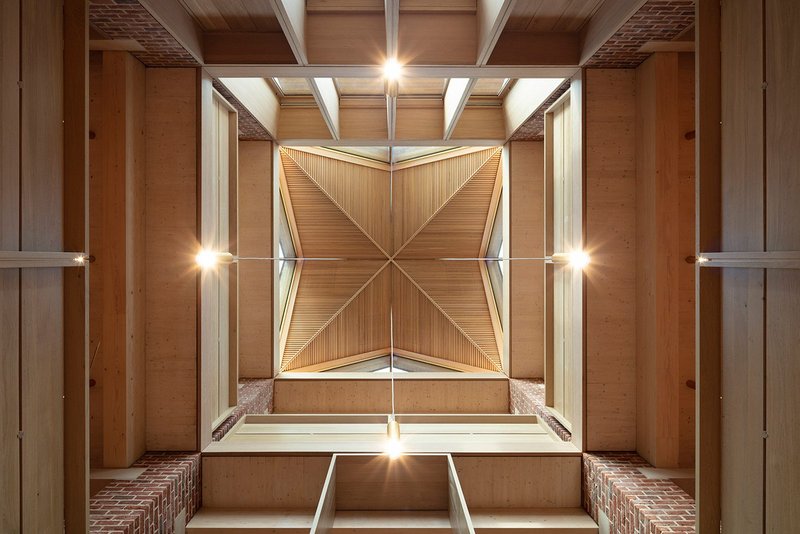 Magdalene College Library, Cambridge, by Níall McLaughlin Architects.

Credit: Nick Kane
The 2022 Stirling Prize shortlist did not contain any 2001 Magna Centre shocks. While the undoubted quality of all the shortlisted projects is not in dispute, this year felt very much like a two-horse race between Magdalene and Mae Architects' Sands End Community Centre; the bookies confirmed as much and there's good reason for their having been bang on the money.
Stirling rookie Panter Hudspith was shortlisted for its Orchard Garden Elephant Park, a 228-unit, mixed-use courtyard housing project, which uses a distinct 'townhouse' aesthetic that it first developed in its 2009 Bear Lane housing scheme on London's South Bank. But sophisticated and well-detailed of itself, the mixed-use scheme could not fail to be tainted by association with the ongoing £4 billion project Elephant & Castle regeneration – contentious due to its parlously low social housing provision.
Reiach and Hall's Forth Valley campus in Falkirk is a 2,000-pupil courtyard school that, in its design quality, despite its 'loose-fit' nature, serves its student users admirably. The Edinburgh firm is really excelling in the education sector, shown not least by this project's dual shortlisting for Scotland's equivalent Doolan Award. But by comparison, it lacks the boldness and civic scope of its larger 2016 Stirling-shortlisted City of Glasgow College, designed with Michael Laird Architects.
Hopkins Architects arc as high-tech prophets turned heretics may have created partisan views of its output and account for only four nominations over the prize's history (Rogers/RSHP have ten and Foster+Partners eight). 100 Liverpool St, a sustainable retrofit and refurbishment, continues the mindfulness of its shortlisted Portcullis House, Evelina Hospital and Olympic Velodrome. But, light touch and carbon offset as it is, it does not result in the iconic look that a public-facing prize might crave - we live in an Instagram world after all; however, to paraphrase the Rolling Stones, maybe in future we should be getting more of what we need rather than what we want.
Henley Halebrown's Hackney New Primary school and 333 Kingsland Road housing overcomes density issues to successfully integrate the two at the far end of this busy road. An open courtyard school is overlooked by a 11-storey tower of affordable housing that makes it all possible. The effect is both village-like and civic, internally open yet defensive. Clad in red-brick and terracotta concrete, it's hard to see where one stops and the other starts, which you feel is the point. With moves like a parents' waiting bench cast-in on the street and the school's open circulation treated as another form of play zone – and such design thinking also evident in the practice's new projects – one feels a third nomination will follow hard on the heels of this second. Its receiving the 2022 Neave Brown Award for Housing for the project would seem to bear that out.
First-time nominated Mae Architects' Sands End Arts and Community Centre, at the corner of South Park in London's Fulham is a slow-burner. Its a considered design makes the most of its £2.75 million budget for local residents' benefit. Modelled on Stirling & Gowan's Brunswick Park Primary School in Camberwell, it applies the form well, peeking its roof over the park's perimeter wall, to engage with the locality and quietly annunciate the public entrance as well as its sustainable use of CLT timber. Here, even recycled bricks are laid on their sides to respect context whilst minimising use. This is a simple but understated workhorse of a project that deserved its place as a serious contender.
Of course, it should be hard to beat a building designed for hundreds of years' use, and Magdalene's New Library is a deserving winner, being not only well-designed and low-energy but meticulously detailed; and as any library should, it rewards repeat viewings.
Hopefully the Stirling win will see McLaughlin commissioned by other clients on schemes much like the ones he has trumped on this occasion: urban ones that don't have undisclosed budgets and only benefit a niche group; projects more 'town' than 'gown'; challenging like his 2015 Stirling-nominated Darbishire Place housing for Peabody or the experimental earlier works that took risks, were less precious - and had fun. In McLaughlin's building of an Oxbridge golden cage, perhaps the Stirling Prize will be the key to him flying it.
Find out who won the RIBA special awards: The Stephen Lawrence Prize, the Neave Brown Award for Housing and the Client of the Year