Westminster Council's eyecatching Cosway Street development in Marylebone was constructed using DfMA facade panels precast with three brick types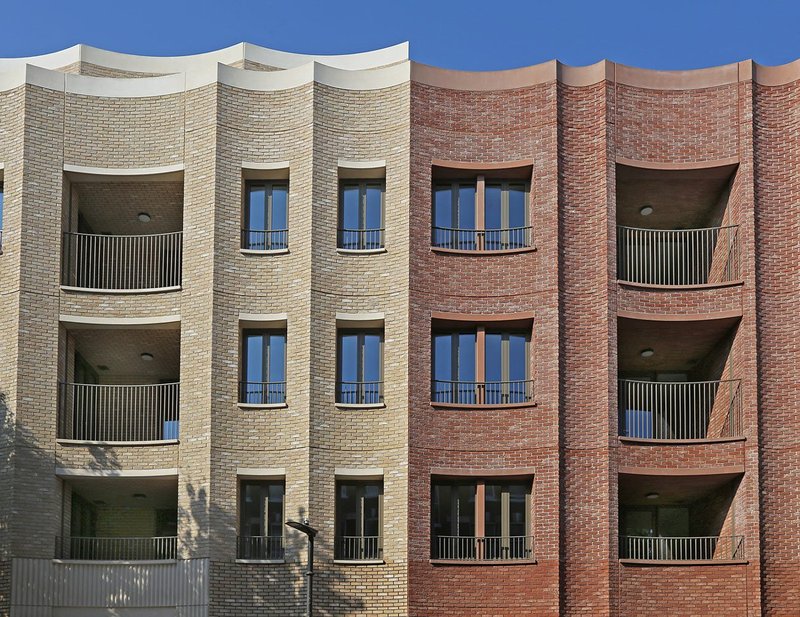 Curving facade panels with Vandersanden Woodland Mixture and Cayenne facing bricks at the development in Cosway Street, Marylebone.
One of the first residential developments created and offered for sale by Westminster City Council, Cosway Street, in Marylebone, London, is a collection of 49 contemporary homes set around a communal garden.
This landmark building was inspired by the area's Georgian terraces and Victorian mansion blocks.
From the choice of materials to the precise proportions and the gentle curves of the scalloped panels, every element of the architecture has been considered to help stitch the scheme into its setting.
The design for Cosway Street was by Bell Phillips, realised by Osborne and its delivery architects David Miller Architects, who took over the project post planning approval.
The idea was to craft the building as if it had been carved from brick. A key decision was to use pre-fabricated Design for Manufacture and Assembly (DfMA) brick panels for the main facades, alongside traditional hand-laid brickwork for the inset balconies.
Using this approach allowed the construction team to build quickly to a precise, high quality and efficient standard in a controlled manufacturing environment, using less energy and carbon and creating less waste.
The idea was to split the building's mass using the materiality, colours and textures of the three different bricks and the scalloped form of the panels to respond directly to the context of the site.
Specifying Vandersanden bricks at Cosway Street
The choice of bricks was important and had to meet the planning design intent.
'It was essential to ensure we were picking up the right tones of reds, yellows and greys from the existing buildings,' says Sundas Rohilla, project architect at David Miller Architects.
Vandersanden's Cayenne, Woodland Mixture and Lima bricks were specified. They are integral to the pre-cast DfMA panels that form the facades, and the traditional hand-laid brickwork lining the balcony spaces.
'These bricks harmonise with the pigmentation of the concrete sills and copings, as well as with the window and balcony railing colours,' says Rohilla.
The mass of the building is reduced not only by the different blocks of brick colours, but also by the gradation of the mortar colours across the facade.
The brick panels were pointed off-site in the factory. With such a complicated design, off-site construction meant that precise tolerances could be achieved and the quality of the brickwork could be seamless.
In all, 285 precast panels were manufactured by Decomo in Belgium to create 3,500m2 of finished facades.
The bricks used by Decomo exactly matched those being used on-site by the bricklayers, with Vandersanden working closely with the design team and directly with Decomo to manage this process.
Find more on this project at vandersanden.com/cosway-street
For more information and technical support, visit vandersanden.com
Contact:
01954 268075
sales@vandersanden.com
---