A skylight installation pulls daylight down into the centre of a newly extended 1930s family home in Nottinghamshire, opening up a skyscape view in the process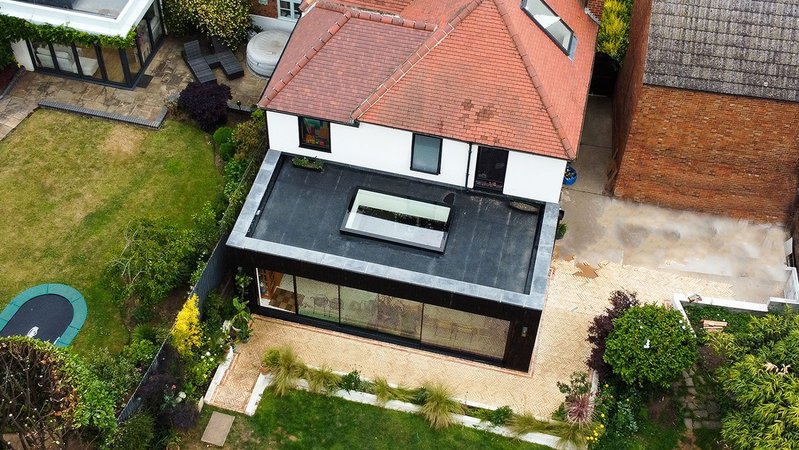 The extended 1930s property in Nottingham has a bespoke rooflight from Vario by Velux.
A lack of light was an issue at this 1930s property in Nottingham.
Owners Abigail and Mark began renovating in 2019 with the aim of giving their home a new life and purpose - a holiday feel - by brightening the interiors as much as possible. They entered a competition to win a bespoke Vario by Velux rectangular rooflight - and won.
The new rooflight acts as a bridge from inside to out and improves the connectivity between the two.
'The importance of bespoke meant that we could get exactly the size that we wanted,' says Abigail.
Vario by Velux has a Build Your Own online configurator tool so bespoke designs can be visualised by clients in 3D and then adjusted as necessary.
The family designed the rooflight with one single sheet of glass and no internal framing to open up an uninterrupted view of the sky above and to avoid casting shadows below.
During the day the rooflight and the glazed sliding doors across the rear of the extension allow shifting light patterns to flow into the house, making the entire design feel more cohesive.
Managing the internal temperature was an important aspect of the project as the south-facing extension brings sunlight into the space from the early hours right through to the evening. Vario by Velux solar control glazing blocks up to 69 per cent of the heat gain, protecting the property from overheating.
Abigail and Mark have achieved their goal of bringing daylight, fresh air and a holiday vibe to their newly extended home.
'We would definitely have invested in a rooflight if we hadn't have won the competition,' says Mark. 'It gives that feeling of being outside when you are inside.'
For more information and technical support around specifying bespoke rooflights for your clients, visit vario.velux.com

Contact:
01592 778246
vario@velux.co.uk
---