Know your Ug values from your Uw values and specify products custom designed with the glazing and frame working in harmony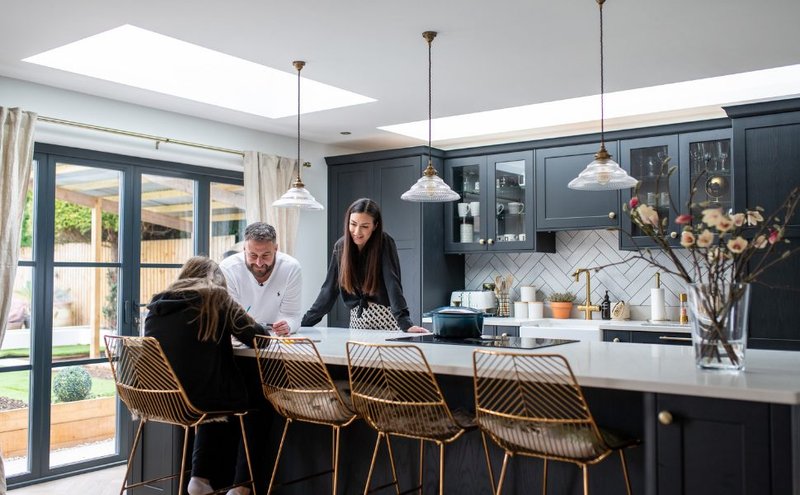 Designing with daylight: Vario by Velux Rectangular and Long Slim rooflights in a kitchen extension.
With Vario by Velux, architects can have confidence in the thermal performance of the rooflights they specify.
The company provides both the bespoke glazing and a fully insulated frame (upstand) for optimal insulation, energy efficiency, reduced environmental impact and comfort for building occupants.
In order to design sustainably it is important to understand the distinction between Ug and Uw values when evaluating rooflight energy efficiency.
The Uw value represents the overall thermal transmittance of the entire rooflight, encompassing the glazing and the frame. The Ug value focuses solely on the thermal transmittance of the glass itself, excluding the frame.
A useful way to remember this is: Ug = Glass only, Uw = Whole Window.
For architects seeking eco-friendly solutions, it is important to pay attention to both Ug and Uw values.
Why Ug and Uw values matter
Energy efficiency Rooflights that have low Ug and Uw values help prevent heat loss through the glass and frame, reducing the need for heating and cooling. This saves energy, reduces greenhouse gas emissions and strengthens sustainability.
Passive solar design Well designed rooflights with optimal Ug and Uw values harness natural daylight and solar heat gain, maximising renewable resources.
Reduced environmental impact High-performance rooflights enhance a building's energy efficiency, resulting in a smaller environmental footprint. By consuming less energy, we preserve natural resources and minimise the harmful effects of energy production, such as air pollution and carbon emissions.
Specify glazing and upstand from one source
Some skylight suppliers provide the Ug value only, as they might only supply and produce the glazing alone without the upstand.
To make well informed decisions and choose rooflights that offer the best energy efficiency, thermal comfort, and align with sustainability goals, it's essential to ask for both the Ug and Uw values.
These values provide a comprehensive evaluation of the rooflight's thermal performance, considering the product as a whole.
Choosing Vario by Velux means opting for a company dedicated to a sustainable future.
Specify rooflights that are custom designed with both the glazing and frame working in harmony to ensure excellent thermal performance and energy efficiency.
For more information and technical support around specifying bespoke rooflights for your clients, visit vario.velux.com

Contact:
01592 778246
vario@velux.co.uk
---