An innovative daylighting solution was central to Twelve Architects' transformation of a derelict Victorian jail in Bodmin, Cornwall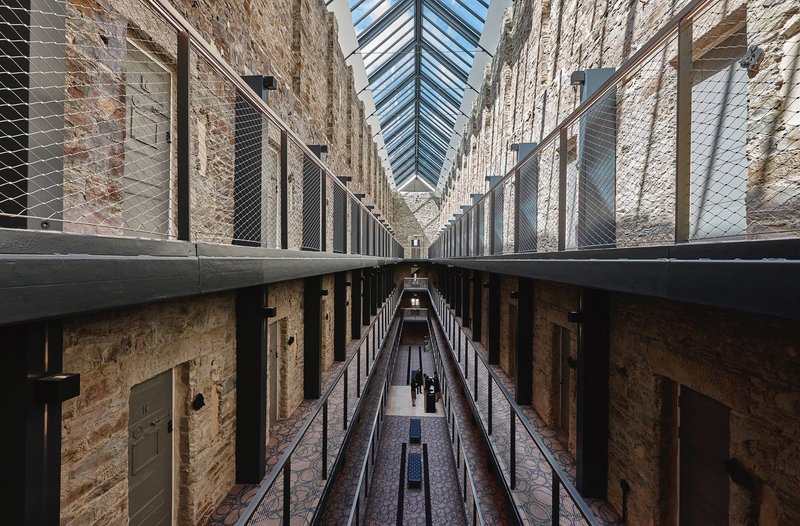 The former Bodmin Jail is now a 70-bedroom hotel and visitor attraction. Velux Glazing Panels replicate the original Victorian rooflights with their thin glazing bars.
In 2015, Twelve Architects was appointed by Mallino Development to restore the historic former Bodmin Jail in Cornwall for use as a hotel and visitor attraction.
What remained of the Victorian prison building was a roofless ruin with vegetation slowly taking over. Grade II listed status, the poor thermal efficiency of the remaining structure and a colony of bats were among the other challenges.
Two wings containing prison cells ran around a central atrium with a tall tower-like chimney connecting the wings and forming part of an original ventilation system. The floors and roofs of both wings had collapsed.
However, the feeling of height and plentiful light within the atria and the view of the skies and tower above the walls remained. Twelve Architects' Hannah Baker was keen to retain the magical feeling of space and light and a large rooflight area was designed to provide the connection between history, light and space.
Thermally efficient, opening rooflights were required to meet the energy strategy for the new hotel, provide summer comfort ventilation and fulfil the necessary smoke clearance and fire strategy.
The rooflights also had to resemble the original historic roof windows, complete with thin glazing bars, to satisfy the planning requirements and fit within the clear lines of the new design.
An holistic system using 214 Velux Glazing Panels was specified to meet the thermal efficiency requirements. The panels, formerly known as Vitral A98 Glazing, recapture the original rooflighting that sat above the two historic wings.
'Velux glazing panels allowed us to maintain the light and views up to the historic ventilation tower,' explains Baker. 'They capture the atmosphere we were after.' The project was completed in 2021.
Find more on this case study at commercial.velux.co.uk/bodmin-hotel
Download Velux Commercial's latest white paper 'Building considerations for commercial rooflight refurbishment'