Forbo's Allura Fusion range uses new colouring techniques to bring an organic, individual feel to commercial interiors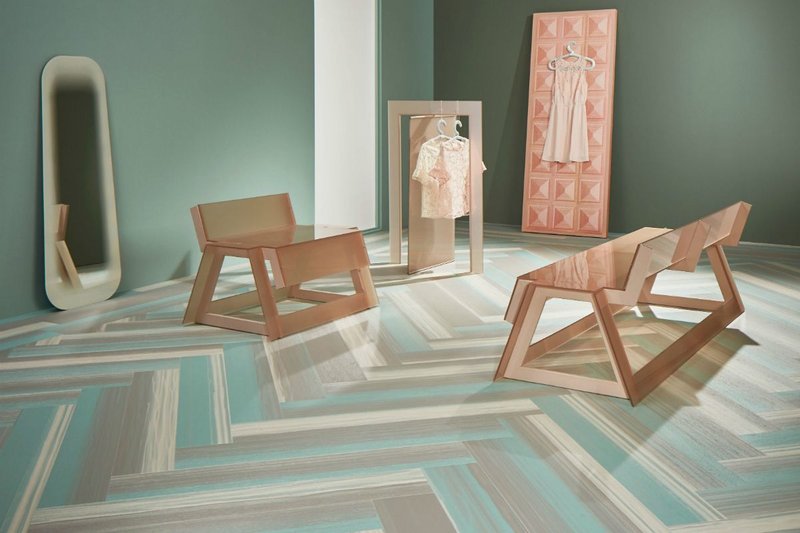 Forbo Allura Fusion vinyl tile flooring in wp60405 Green Colour Fuse.
From chic boutiques and large hotels to immersive visitor attractions, creating comfortable, relaxed and engaging environments is key to improving customer experience. As the need to differentiate the interior design of commercial premises increases, so does the desire for products that can be customised and given a personal twist.
Recent innovations are opening up design possibilities and making it easier for specifiers to create bespoke interiors. In the flooring industry, advances in technology have led to new off-the-shelf products that feature randomised designs, allowing specifiers to create unique installations without the hefty price tag or long lead times required by other bespoke commissions.
These new products are available in an array of formats including modular which, as no two projects will look quite the same, ensures each installation has its own identity. Flooring ranges like these can significantly enhance retail, hospitality and leisure sector projects, where the interior environment contributes heavily to the sensory experience of the customer.
Forbo's new Allura Fusion vinyl tile collection uses innovative colouring techniques to create a fresh look with no pattern repeats. It is available in four plank and three tile designs, with every piece in the range unique. No two planks or tiles are the same, resulting in an organic, individual look.
This is made possible by an innovative manufacturing technique that combines traditional printing methods with free-flowing, coloured PVC streams to produce a 0.7mm wear layer. The result is a flowing, expressive appearance that gives designers the freedom to create customised, visually appealing installations that enhance the sensory experience of the customer.
Combining this type of floorcovering with more standard products extends the options further, enabling the creation of distinct zones and improved wayfinding.
For more information and technical support, visit: forbo-flooring.co.uk
Contact:
01773 744121
---