Vitra's bathroom showroom in Piercy & Company's iconic offices in Clerkenwell offers architects workshop and collaboration space with expert advice on tap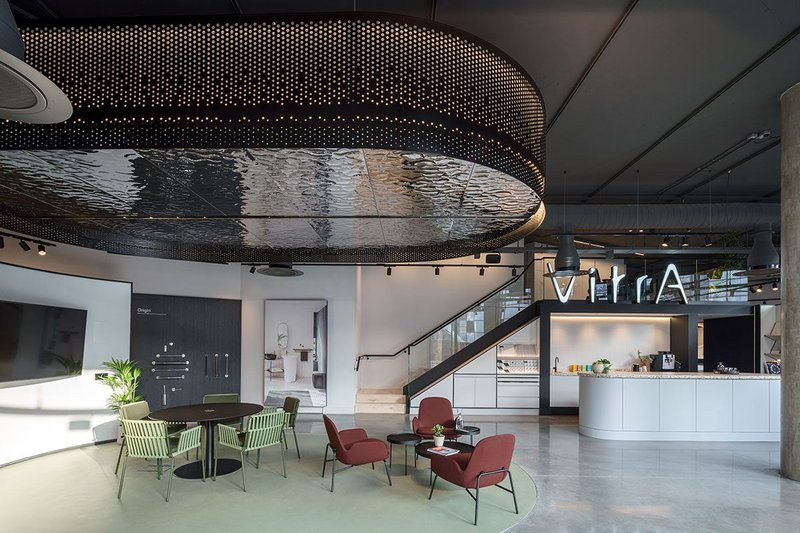 VitrA London: Two floors of bathroom products, design inspiration, co-working areas, specification support and exhibition space.
Bathroom company VitrA has opened a 520m2 showroom in the Turnmill building near London's Farringdon station.
The venue is designed as a talks and events hub; a new physical and online home for dialogue, workshops and exhibitions around architecture and design.
The ground floor showcases VitrA's designer collections from collaborators including Arik Levy, Terri Pecora, Ross Lovegrove and Claudio Bellini.
On the lower level a virtual reality zone harnesses Virtual Worlds CAD software to bring designs to life in 3D. Architects can 'walk' around their bathroom designs in a virtual 4D theatre. Also on this floor VitrA sanitaryware and brassware displays have been arranged by typology, making it easier to compare products.
There is a library of architecture and design books and periodicals, a range of tile, ceramic and furniture samples and working displays of taps and mixers so it is easy to get hands-on with the products.
The showroom is dotted with workspaces and informal meeting areas for group collaboration and consultations with VitrA's expert design and specifications team.
The Turnmill Street hub will host RIBA-accredited CPD sessions to keep professionals up to date with new technologies in bathrooms, the changing landscape of industry standards and the latest innovations in sustainability.
VitrA hopes the venue will bring the architecture and design community together in a stimulating and dynamic environment and inspire constructive dialogue, new methodologies, concepts and solutions for the bathrooms of the future.
The aim is for the showroom to have an open-door policy eventually, but for now appointments need to be booked in advance with the VitrA London team. This is to ensure a safe environment with appropriate distancing and to allow for cleaning between each visit.
Book an appointment for a VitrA London showroom tour at cutt.ly/vitralondon
Join a Rewilding: Nature Cannot Wait discussion on 13 July 2021, the fifth talk in the RIBA + VitrA Architecture Anew series in partnership with VitrA Bathrooms. The series encourages new ideas around the role of architecture in designing a more sustainable future.
For more information and technical support, visit london.vitra.co.uk
Contact:
0203 687 3150
---