The vision of the architect, the quality of the product and the skill of the roofer all combine to determine the success - or otherwise - of a roofing specification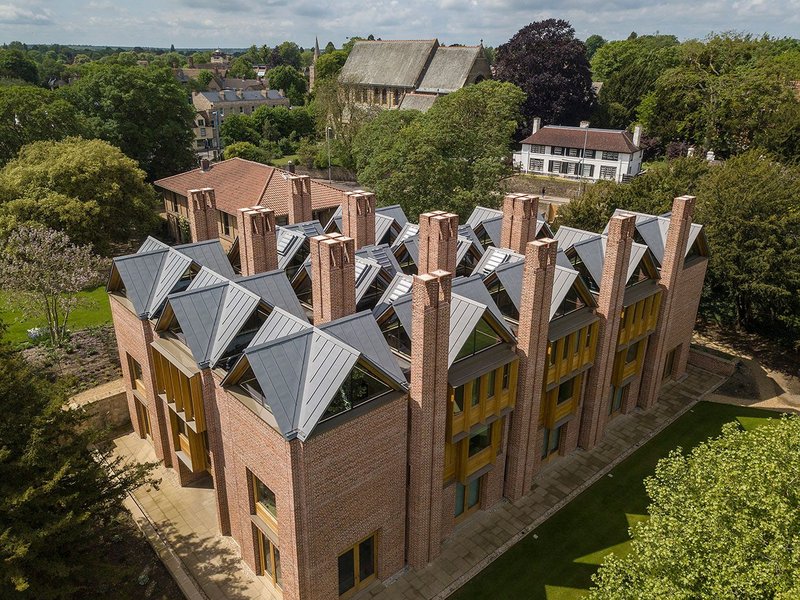 VM Zinc Quartz-Zinc standing seam roof at the Stirling Prize winning Magdalane College library, Cambridge. Niall McLaughlin Architects.
For over 200 years zinc has been used to protect buildings from the elements, not only in an aesthetically pleasing way, but by providing excellent durability and very limited maintenance.
This is true whether thinking about the traditional zinc roof tops of Paris or Niall McLaughlin Architects' Stirling Prize winning Magdalene College library. However, for this to be successful zinc must be correctly designed and installed.
VM Zinc has been involved in training installers for many years and in many countries, including in the UK and Ireland.
The firm provides hands-on training to roofers wanting to learn more about its installation and, if specifiers use VMZINC@WORK partner installers, a 50-year material warranty is available.
Before the zinc installer gets to work, the zinc roof or wall must be correctly designed. The partnership between architect and VM Zinc goes back to the 19th century when the company first started producing technical drawings.
Fast forward to 2023 and VM Zinc is still supporting architects with design tools such as BIM, specifications, Environmental Product Declarations, BROOF(t4) fire tests and lots more, including samples and an online or office-based RIBA-accredited CPD seminar.