Its unbeatable aesthetics, low maintenance, durability and A1/A2 fire classification are winning over more architects who are specifying the malleable metal for roofs and walls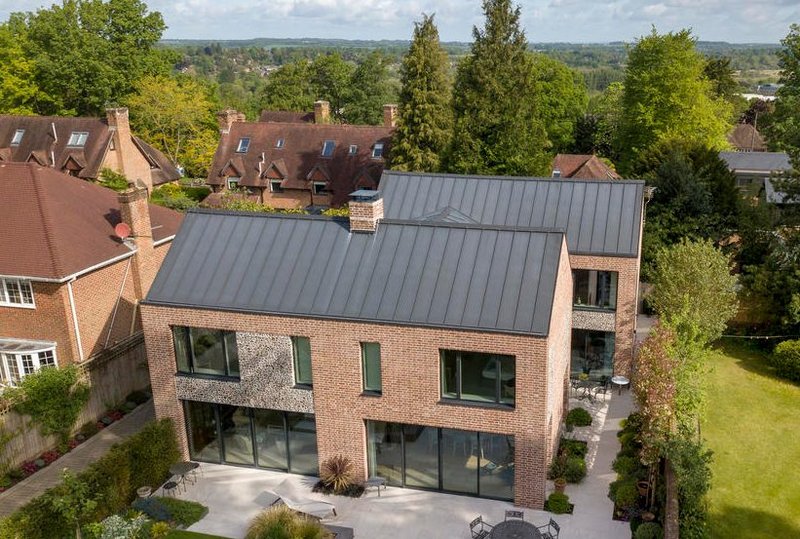 VM Zinc Anthra-Zinc Plus standing seam roofing at Fair House, Winchester, Hampshire. Anthony Munden Architects.
After the redevelopment of Paris in the 1850s, zinc began to be used as a roofing and facade material across the UK and Ireland and, into the 20th century, it was specified as a roofing material on a small number of housing estates.
Its use began to wane in the 1970s and, by 1990, it had almost died out. Over the past 30 years there has been a dramatic renaissance in the use of zinc for both roofs and walls with many projects being in the residential sector.
3 zinc projects of note
Fair House, Winchester, Hampshire, private house by Anthony Munden Architect (pictured top). This project uses a palette of traditional materials, including Anthra-Zinc Plus standing seam roofing.
Lampwick Quay, Manchester, by Callison RTKL and JM Architects. A 213-unit residential development with a building envelope that includes four finishes of zinc using three different facade techniques installed by Longworth Building Services.
Wehntalerstrasse, Zurich, Switzerland, by Menzi Burgler Kuithan Architects. A 15-unit apartment development with a 'discreetly exceptional' rainscreen facade made up of 14,000 interlocking pieces of Pigmento Green and Grey.
Why specify zinc for your projects?
The low maintenance of VM Zinc, alongside its durability of up to 100 years and its 100 per cent recyclability, are as important its aesthetics.
Correct installation is paramount and VM Zinc has a partnership programme called VMZINC@WORK. Its partnership companies have a proven track record of successfully installing VM Zinc and offer a 50-year material warranty.
VM Zinc offers a number of technical certificates such as a Brooft4 test showing no flame spread or penetration. It has an A1 or A2 (depending on the finish) classification following EN13501 and its non-vented warm roofs also have BBA certification.
Find out more about VM Zinc's sustainability credentials, Environmental Product Declarations based on the EN 15804 standard and RIBA-accredited CPD.
For samples, further information and technical support, visit vmzinc.co.uk
Contact:
01992 921300
vmzinc.uk@vmbuildingsolutions.com
---