Malleable, durable and recyclable, zinc has a rich history in architecture and today's practitioners are finding new and exciting ways to design with it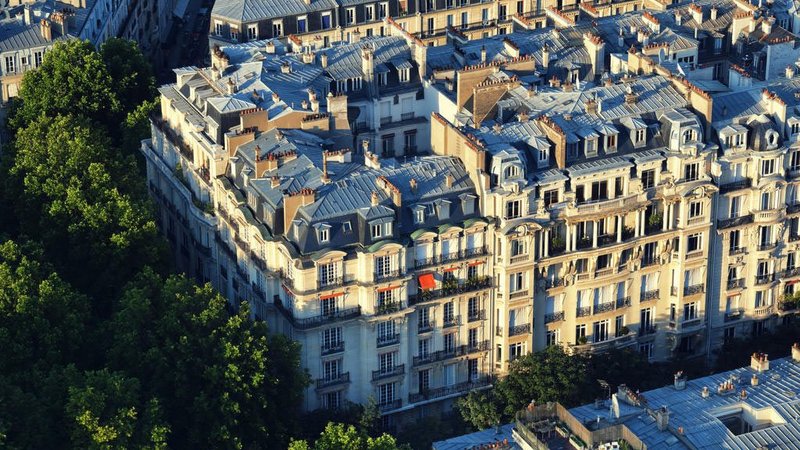 Haussmannian-style zinc batten cap roofs in Paris. Techniques and systems used for residential buildings clad in zinc today have expanded.
When Baron Haussmann redeveloped Paris in the middle of the 19th century the vast majority of the 40,000 new buildings were protected by zinc roofs and rainwater was drained away using zinc gutters and downpipes.
The top floors of many of these buildings were the lodgings for domestic servants working for wealthier families living on the floors below.
Over the following 150 years some of these living quarters have become commercial office space and then returned to residential use, but the zinc roofs have remained.
None of the original zinc installed 170 years ago now exists, but there are examples of buildings where zinc has lasted 130 years.
When the zinc is finally replaced it is quite straightforward to remove and recent figures indicate that 98.9 per cent of this zinc is recycled.
While the traditional zinc batten cap roofs are still a common feature of Haussmannian architecture in Paris and beyond, the techniques and systems used for residential buildings clad in zinc have expanded vastly, as these five case study illustrate.
1. Skjoldnes near Bergen, Norway
The 3RW-designed Skjoldnes complex includes housing and a public park that covers a motorway.
The materials used on the rocky fjord site include stone, timber and VM Zinc Pigmento Grey standing seam facades.
2. Apartment block, Morristown, New Jersey, USA
Marchetto Higgins Stieve Architects' design for a downtown apartment complex reflects some of the cast iron buildings of the 19th century.
However here VM Zinc's Quartz-Zinc was used to create an ornate facade with contemporary decorative elements.
3. Islington Square mixed used development, London
Zinc is frequently used on retrofit projects and this is a prime example. The former brick Royal Mail sorting office is at the heart of CZWG's project.
Curved facades and mansards in VM Zinc's Quartz-Zinc standing seam create a bold geometry above the original Edwardian building.
4. Waterside barn conversions, Ely, Cambridgeshire
Smaller scale domestic projects also frequently use zinc.
PiP Architecture has transformed a group of neglected agricultural barns into riverside dwellings using VM Zinc's Anthra-Zinc and Pigmento Brown Zinc.
5. Bilton Fields, near Rugby, Warwickshire
Staying with the agricultural theme, this design by HB Architects combines farm-style elements with contemporary glazing units and standing seam roofing and cladding in pre-weathered dark VM Zinc Anthra-Zinc and Quartz-Zinc.
5 reasons to specify VM Zinc roofing and cladding for your next project:
Used since 1837 to add aesthetic value to the exterior of buildings.
Durable with a BRE Environmental Product Declaration that indicates a service life of 100 years with full recyclability.
A1/A2 combustibility ratings and has passed BROOF(t4) fire tests.
Offers a 50-year material warranty to VMZinc@Work partner installation companies.
Available in a wide range of standard pre-weathered finishes.
For more information, technical support, a RIBA-accredited CPD or samples, visit vmzinc.co.uk
Contact:
0203 445 5640
vmzinc.uk@vmbuildingsolutions.com
---