The metal is a versatile choice for building envelopes, offering the specifier multiple finish, colour, installation and fixing options for imaginative and inspirational facades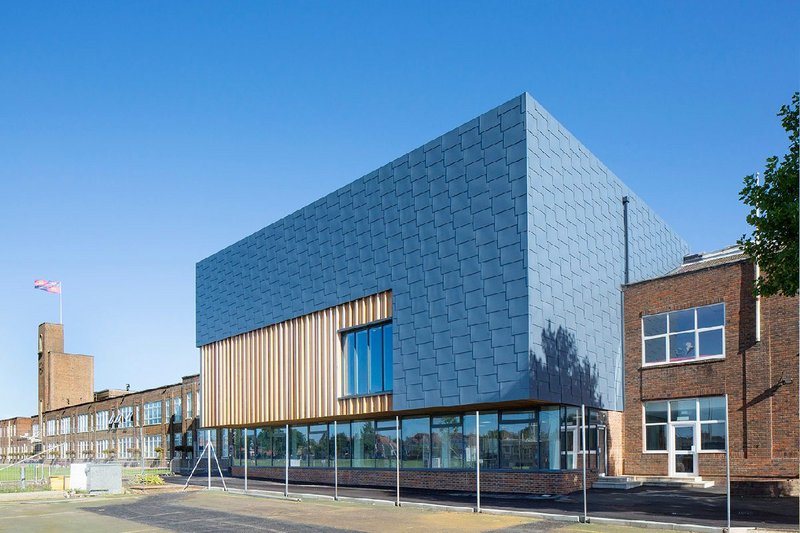 Pigmento Blue Flat Lock panels at King Edward VI School, Southampton.
Zinc has been used to clad the exterior of buildings for over two centuries and there are now lots of options for architects and specifiers.
Standing seam zinc panels can be used for wall cladding, but other systems are available using flat or recessed joints. Panels can also be linear, horizontally or vertically installed, or angled to be square or diamond in shape.
Another important consideration is flatness. Metal facades will never be completely flat, but some systems will perform differently to others. For example, rainscreen cladding using 300mm wide interlocking panels will offer a flatter finish than a standing seam facade.
Where the core materials used in a facade must be rated Euroclass A1 or A2, which is typically the case for residential buildings above 11m in height, plywood should be avoided and can be replaced with metal decks and/or rails depending on the zinc system being used. Combined with a mineral board insulation and appropriate fire stops, a compliant facade can easily be created.
Alongside its Natural-Zinc product, facade, roofing and rainwater systems manufacturer VM Zinc offers pre-weathered mid-grey Quartz-Zinc and darker Anthra-Zinc, plus five Pigmento finishes with a discrete colour added to the pre-weathering. Azengar is an additional engraved option.
Zinc can be embossed, perforated and incorporate texture, helping to create imaginative designs. It is resistant to corrosion, durable and does not require costly maintenance. Its malleability and versatility make it ideal for diverse projects, from homes to high-rise commercial developments, for new-build or refurbishment.