Bengal student's PlastiQube, made of waste plastic, creates 70% less CO2 emissions in manufacture than traditional brick production – and it's safer for workers too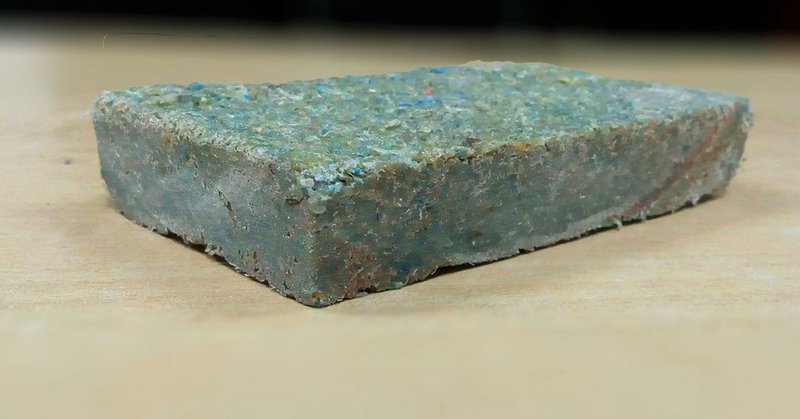 PlastiQube bricks require 70% less energy to produce than regular clay bricks.
A student's desire to tackle chronic air and plastic pollution in West Bengal has led to the development of an interlocking brick made of plastic waste that he claims could cut greenhouse gas emissions of brick manufacture by 70%.
Abhishek Banerjee, a 22-year-old construction engineering student at Jadavpur University, is shortlisted for the UN Environment Programme's Young Champions of the Earth Award for his work on PlastiQube, an environmentally-conscious alternative to the burnt-clay bricks commonly used for house building in India.
Banerjee's start-up social enterprise, Qube, works with local waste collectors to gather plastic debris, including water bottles and containers and polythene bags, from dustbins and junkyards. The plastic is cleaned, shredded and compressed into bricks, then heated and cooled to increase strength. Each brick contains 1.6 kg of plastic.
Qube claims manufacture requires about 70% less energy than traditional bricks and is less energy-intensive than recycling plastic into other forms. The brick has fared 'satisfactorily in all tests' for compressive and tensile strength, porosity and accelerated aging.
'One of the biggest advantages is that PlastiQube is almost five times lighter than regular clay bricks, which reduces the overall dead weight of the structure,' Banerjee told RIBAJ. 'In terms of strength, durability and water resistance it is a superior product to fired clay brick.' Tests for fire safety and thermal performance are still in progress and the product has yet to be trialled on a building, he added.
India produces over 25,000 tonnes of plastic waste a day, 40% of which ends up in the ocean, rivers and drainage systems, according to figures from the country's Central Pollution Control Board.
Meanwhile, the brick-clay industry burns around 40 million tonnes of coal per year, emitting carbon dioxide and sulphur that contributes to air pollution.
A high-school field trip to a brick kiln in West Bengal was what first alerted Bannerjee to the pollution and health risks suffered by workers in the industry. In comments on the Young Champions of the Earth Award website, he said: 'The biggest threat posed to kiln workers is brick-dust exposure. The daily hazards kiln workers are exposed to include outdated kiln technology, which leads to high levels of toxic emissions and long hours on the job which can lead to overexposure to toxicants.'
Qube is working to commercialise the technology and development work is being supported by Jadavpur University and the Government of India's Ministry of Micro, Small and Medium Enterprise. Winners of the Young Champions of the Earth Award will be announced in September.
Other construction innovations with waste plastic include its use in concrete and experiments with terrazzo.