These compact modular systems feature built-in drainage and are available in three adapt-to-fit options - ideal for projects with limited construction height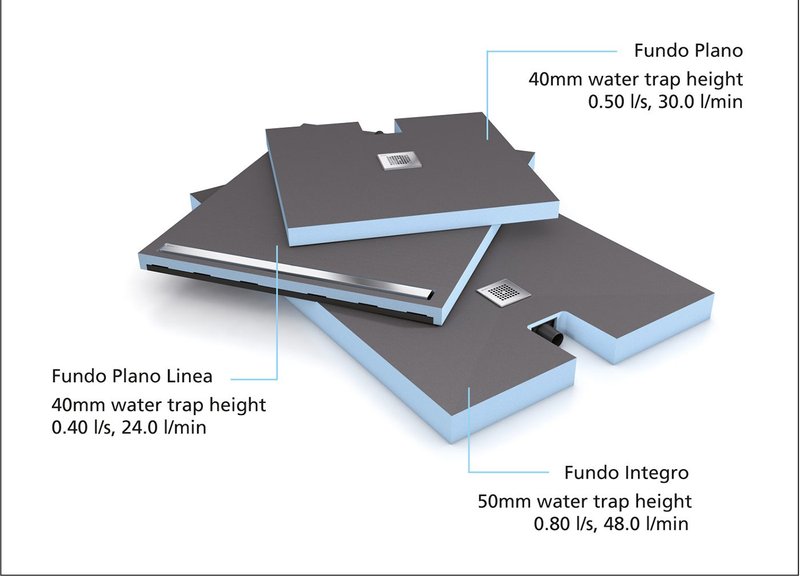 Wedi Fundo complete shower systems in three options: For projects where every millimetre counts.
Wedi's Fundo complete shower systems offer an ideal solution for bathroom projects in the commercial, residential and leisure sectors.
Always at the cutting edge of innovation, Wedi has developed three different Fundo shower elements with integrated drainage especially for projects where the available construction height is limited.
Fundo Integro meets all of the requirements for standard-compliant installation with an installation height of 90mm.
Fundo Plano offers an overall installation height of just 65mm with traditional point drainage.
Fundo Plano Linea has an installation height of 70mm and features modern linear drainage.
Fundo complete systems offer specifiers quality, impressive performance, functionality, reliability and inspired design.
Benefits of Fundo complete systems include :
Can be cut to the required dimensions.
Each system is 100 per cent waterproof throughout.
Suitable for all tile sizes, even glass mosaics.
Wheelchair accessible from the 50x50mm tile size.
Enhanced cementitious coating for highly stressed areas.
Drainage and slopes are integrated during manufacturing.
A drain cover and a sealing sheet for the pipe connection area are included.
As well as standard formats, bespoke production is also available.
Thanks to the straightforward, safe and quick installation, efforts and risks are reduced to a bare minimum.
Wedi Fundo shower elements have a sealing set developed especially for the sealing of their perimeters to guarantee a flexible and secure seal to a wide variety of materials.
The surrounding walls and floor can be lined with Wedi building boards or with a Wedi Subliner membrane to ensure the proper tanking of splash areas.
As part of the Ardex family, the manufacturer not only offers 100 per cent waterproof and loadbearing XPS tilebacker boards and shower systems with all required certifications (VOC A+, EPD, CE, UKCA, UKNI), but also compatible adhesives and grouts for direct tiling - for perfect compliance with sustainability requirements.
For more information and technical support visit wedi.net/uk
Contact:
0161 864 2336
enquiries@wedi.co.uk
---