Drain covers are now available in glamorous Black, Gold and Rose Gold PVD finishes to match the latest brassware collections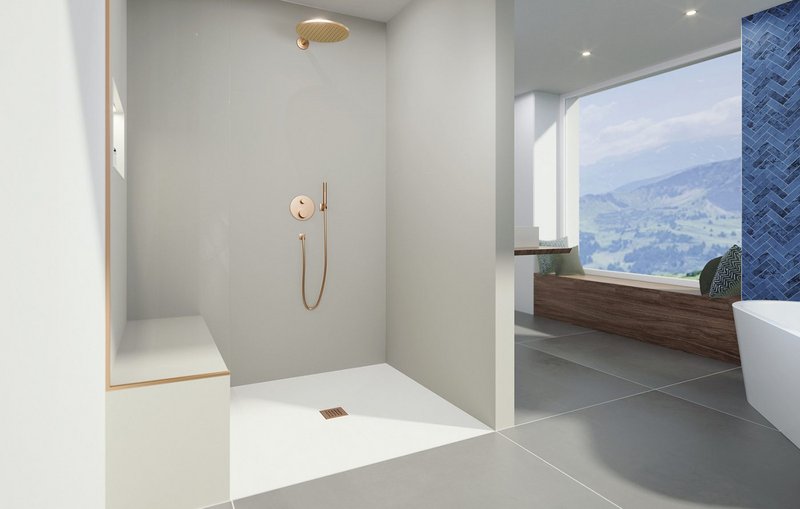 Wedi's new PVD drain covers are available for point and linear drainage from April 2023.
Established in 1983, Wedi is known for its versatile 100 per cent waterproof XPS product range protecting the substrate against damp and mould in wet areas.
Apart from directly tileable secure foundations, the brand now also offers a modern, grout-free alternative to traditional tiling to specifiers and their clients. Design surfaces of the Wedi Top Line provide durable and stylish, on-trend bathroom finishes.
Inspired by the latest brassware trends, Wedi is now utilising Physical Vapour Deposition (PVD) - a technology typically associated with the aerospace and automotive industries - to upgrade its brushed stainless steel drain covers.
High-quality PVD coating has functional as well as decorative advantages, such as enhanced wear resistance and corrosion protection.
Matched to the common fittings of leading brassware manufacturers, Wedi has three new designs to choose from: Metallic Gold, Metallic Black and Metallic Rose Gold. They add instant warmth and visual interest to any bathroom.
3 reasons to specify Wedi metallic drain covers:
Easily adapted to any bathroom type
Outstanding colour quality and brilliance
Ideal match to stylish brassware collections
The new metallic drain covers combine high design standards and durability to bring a touch of glamour to bathrooms.
They accentuate and enhance sustainable, reclaimed materials such as stone and wood or Wedi Top Line design surfaces.
Wedi is proud of its clever, performance-led product innovations that go beyond 'just' being functional.
For more information and technical support visit wedi.net/uk

Contact:
0161 864 2336
enquiries@wedi.co.uk
---