This XPS innovation comes with factory-installed Hansgrohe iBox and water pipes for faster and safer project completion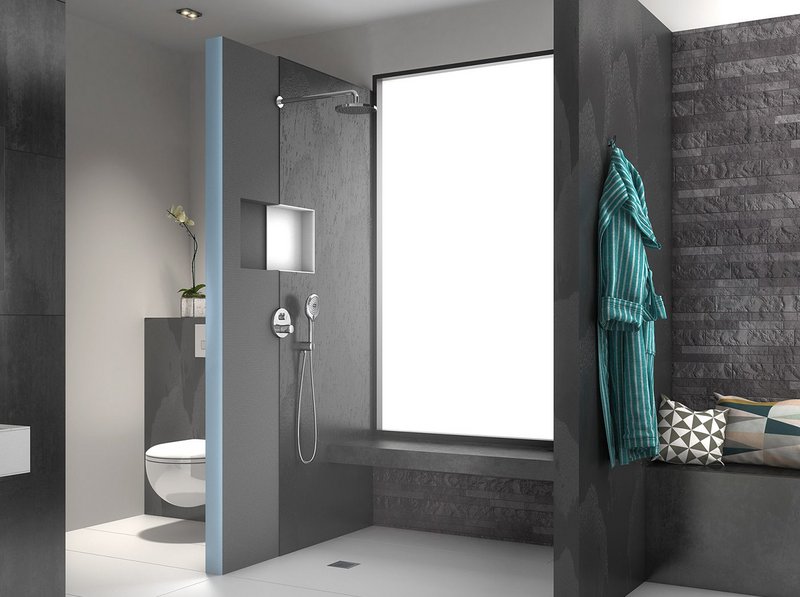 Wedi Sanwell shower wall module with integrated pipes, Hansgrohe iBox and niche finished with Wedi Top Wall in Carbon Black and Wedi Sanwell Top in Pure White.
Always at the forefront of innovation, Wedi brings a new, ready-to-install shower wall solution to the market.
Further reducing labour and risky installation steps, the Wedi Sanwell shower wall module features factory-integrated, sealed hot and cold-water pipes with a Hansgrohe iBox to suit 200+ thermostatic mixer designs.
There are many individualisation options to meet customer-specific needs, such as an integrated niche or selectable height of integrated reinforcements for the attachment of the shower outlets.
It is not only adjustable on site, directly tileable or ready to receive Wedi Top design surfaces as a finish, but its installation is a breeze too: with built-in outlets for the shower head and hand-held shower hose, it is simply connected to existing water pipes.
High degree of prefabrication can save a great amount of time on the construction site while, due to the reduction of interfaces between different trades, achieves the highest level of system security providing peace of mind for all.
100 per cent waterproof.
Further waterproofing is not required.
Manufactured with 100 per cent green energy.
Lightweight and robust at the same time.
Can be used as a fixed wall or as a freestanding partition.
Available in 900 or 1200mm widths and 80 or 100mm thicknesses.
For more information and technical support visit wedi.net/sanwell

Contact:
0161 864 2336
enquiries@wedi.co.uk
---