This simple to install LED-lit niche surface is part of a stylish bathroom solution with warm-to-the-touch, antibacterial properties for improved hygiene and wellbeing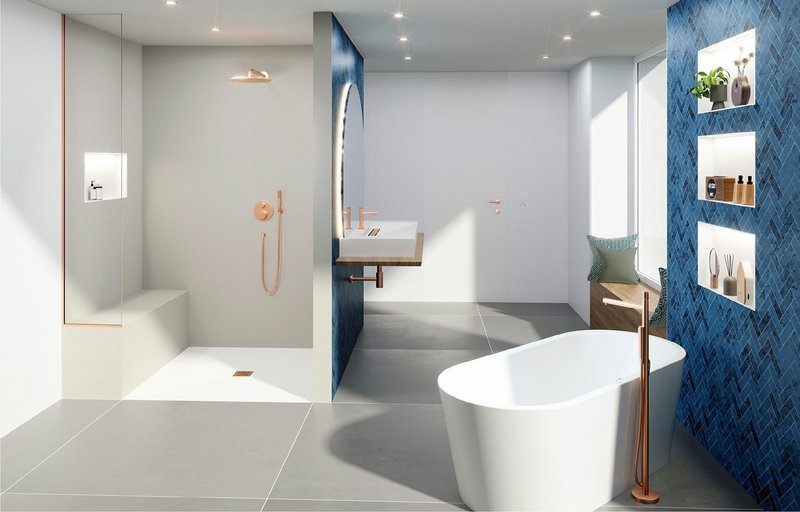 Wedi Top Line including the illuminated niche surface: stylish, grout-free alternatives to traditional tiling, perfect for spa-inspired bathrooms.
Wedi's new Sanwell Top LED niche surface for showers and bathrooms has factory-integrated and fully sealed LED lighting, making recessed shelving a real highlight.
Part of the brand's range of design surfaces for bathrooms, the Sanwell Top niche provides hygienic and easy-to-maintain shelving for toiletries, accessories and decorative elements.
Whether you are designing a shower enclosure or a whole bathroom, the preformed, sleek surfaces of the Wedi Top Line are perfectly matched to Wedi's XPS niches, benches and wet room trays.
The entire range of surfaces is made from recycled materials and is available in a mineral or mineral-vinyl composite natural stone look and in colours Pure White, to match modern sanitaryware, Carbon Black, Sahara Beige, Concrete Grey and Stone Grey.
5 reasons to specify the Sanwell Top LED niche:
S

imple and fast installation.
Grout-free design with antibacterial, low-maintenance surface.
Guaranteed IP67 rating.
Fully recyclable at the end of its lifecycle.
Combines high design standards with durability to bring a touch of glamour to bathrooms.
Established 40 years ago, Wedi is the leading manufacturer of XPS wet room solutions. It is paving the way for a sustainable future, supporting its customers, partners and suppliers in the responsible use of energy and environmental resources while inspiring creative, functional bathroom design.