Researchers collaborate on 'solar window' that could transform power supply in developing countries within a decade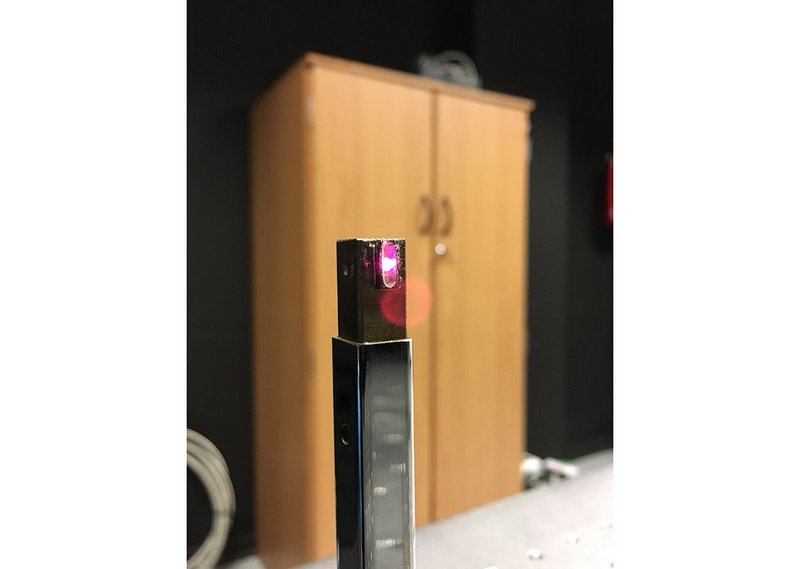 Phosphor material glowing under excitation. Lucas Erasmus UFS
A material used in radar screens, glow-in-the-dark toys and plasma TVs could transform windows into transparent solar panels and researchers claim a product could be on the market within a decade.
Academics at the University of the Free State (UFS) in South Africa and Ghent University in Belgium pooled their resources to develop the technology, which generates electricity from invisible light emitted by phosphor.
The research is being funded by the South African and Belgian governments and is mooted as a potential low-cost solution to constant power outages in the former colony where many people rely on generators.
Other potential applications include a new durable plastic roof that would allow visible diffuse light to enter a property and generate electricity from invisible light; windows in electric vehicles; and smartphone screens used to generate power for the devices.
The project intends to incorporate tiny phosphor particles into transparent glass and plastic panels. When sunlight, or ambient light in a room, hits the phosphor it absorbs the infrared and ultraviolet spectrum invisible to the human eye, then emits it at a different wavelength.
Lucas Erasmus, an academic in the Department of Physics at UFS, told RIBAJ: 'Through internal refraction, and similar to a fibre optics, the invisible light is concentrated on the sides of the glass, or polymer panel, where the solar cells are located. The visible spectrum is able to pass straight through.'
UFS has developed a 'very efficient' phosphor powder and Ghent has developed a method to incorporate the powder into a polymer matrix. Work will now focus on combining the two and refining the process to make it more efficient.
Erasmus says the biggest challenge is how to control the scatter of light inside the glass. 'We have to precisely match the refractive index of the phosphor and the glass or polymer in which it is embedded. If there is even a slight mismatch there is a lot of light scatter, which means the device is no longer fully transparent and power generation decreases in efficiency.'
Experiments are also under way to optimise the device to increase power generation. 'I won't say it will be more efficient than standard silicon solar panels, but we are trying to get the efficiency high enough,' Erasmus concludes.
This follows on from trials in 2016 in the Netherlands on PowerWindow.