New Story's thermally-efficient, two-bed homes in a seismic zone have electricity and water services and meet international building standards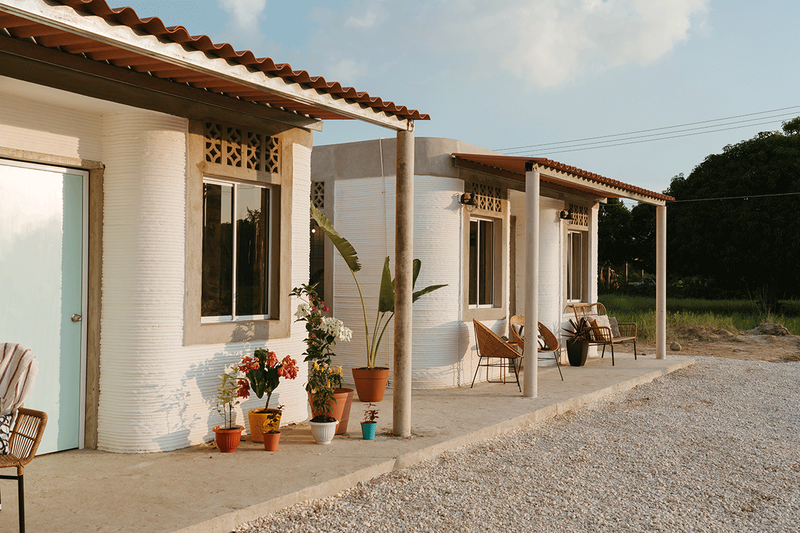 Each home contains two bedrooms, a living room, a kitchen, a bathroom and connections to electricity and water supply.

Credit: Joshua Perez for New Story
The world's first 3D printed neighbourhood is on site in southern Mexico, and features thermally-efficient concrete homes built to comply with international building standards.
The 50 single storey 500 sq ft homes in Tabasco are being constructed by non-profit organisation https://newstorycharity.org to house local families currently living in extreme poverty and makeshift shelters.
Construction tech company Icon prints each property in around 24 hours, spread across several days, using a gantry-style printer that extrudes layers of a cementitious-based material, 'Lavacrete'.
The two homes already completed were built to meet the International Building Code structural standard and, according to New Story, will last as long – or longer – than homes made of standard concrete masonry blocks. The continuous thermal envelope, in combination with fittings and finishes applied using traditional construction, including the roof and windows, helps boost thermal performance.
ICON's Vulcan II 3D printer is specifically designed to work under constraints common in rural locations and to produce single-storey buildings faster, more affordably, and with greater design freedom.
Sarah Lee, chief growth officer at New Story, told RIBAJ: 'With only two homes complete, we aren't disclosing the specific cost at this early stage, but the goal as we continue to scale and deliver more homes is that efficiencies rise and costs go down ...The first two homes are replicas, but one of the benefits of 3D printing is that customisations are much simpler and we anticipate making changes to the design as we continue with more homes.'
The non-profit has 'multiple architects' on its team and local partner teams, which worked closely with families to design the homes. Tabasco sits within a seismic zone, so properties are engineered above standard safety requirements and include robust foundations.
The Mexico project is intended to serve as a testbed and learning will be shared with other non-profit organisations and governments to speed the rollout of low cost housing worldwide.
Alexandria Lafci, chief operating officer of New Story, said: 'Change is an open source pursuit so we are not working with ICON to bring this technology to only New Story projects, we are bringing it to the world. Our goal is to power our sector, every government and every organisation building homes for the poor, to do their best work.'