Mineral tiles by Zentia have been specified for Sinclair Watt Architects' extension of the daylighting solutions provider's UK and Ireland head office in Fife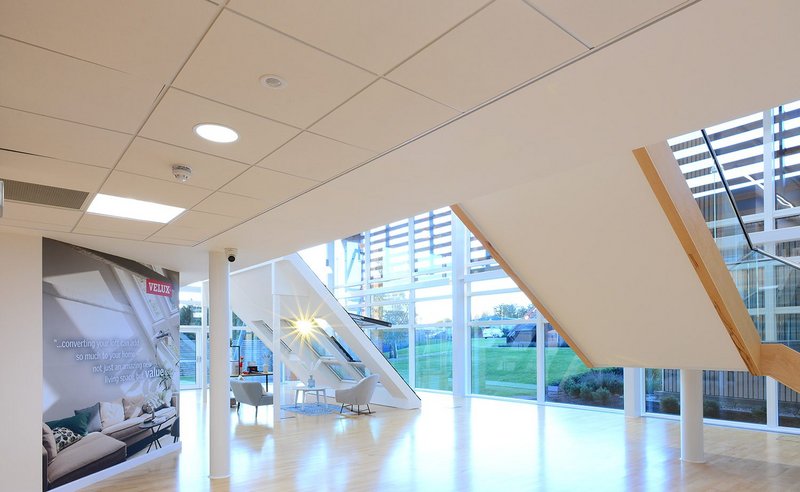 Sinclair Watt Architects' £7.7 million extension to the UK and Ireland headquarters of daylight solutions provider Velux features ceiling systems by UK manufacturer Zentia.
Velux has been located on a 1.6-hectare site in Glenrothes, Fife for 35 years, where employee numbers have grown from an initial 50 to 172.
Designed to complement a gently sloping site, the extension features full-height glazing and stone and timber cladding and showcases the latest Velux technology.
It joins the existing building via a new staff entrance, which features a green roof, aluminium guttering and timber rainscreen cladding.
Velux HQ extension: The brief
Sinclair Watt was tasked with designing a new main entrance and reception area, a product display hall, meeting room suite, plus office and customer service spaces.
The resulting extension, with its engineered timber and steel structural frame, brings clarity and logic to the design and makes it possible to replace or update the not-so-permanent parts of the building in the future.
The roof form is curved to reduce the overall scale of the building.
Velux HQ extension: The interior
The internal design incorporates a central street and atrium that acts as a meeting place and general circulation area. It allows the best use of natural daylight and natural ventilation through the building.
Three key areas - energy efficiency, healthy indoor environment and renewable energy - constitute the basis of the new extension.
The architects adopted a fabric-first approach with high insulation levels and low air permeability rates to reduce overall heat loss.
This, combined with LED lighting and air source heat pumps as the main heating source, have resulted in a highly energy efficient and sustainable building.
Velux HQ extension: Ceiling specification
The architects specified Zentia's Ultima+ Finesse and Ultima+ OP Microlook mineral ceiling tiles, both in 600x600mm format, for the project.
The tiles met the Class 1, aesthetic, fire and acoustic performance required for the 37,673ft2 two-storey building.
Some 1,1,00m2 of the Zentia Ultima+ OP Microlook tiles were used in the ground floor offices and store rooms, while 100m2 of the Finesse tiles were used in the restaurant, kitchen and toilets.
The Ultima+ range features class-leading light reflectance of 87 per cent and Euroclass A2-s1, d0 fire classification.
The OP Microlook variant has Class A sound absorption and Finesse features a fully concealed, fully painted edge detail.
Velux HQ extension: Choosing Zentia
'Zentia shadow and transition trims were used so the Zentia ceilings tie in well with adjacent plasterboard walls and ceilings,' explains architect Iain Mitchell.
'We specified the Zentia systems because their product range, suspension systems, product information and technical backup are all good.'
The ceiling installation was completed for main contractor ISG by specialist sub-contractor PFP, who had a team of up to six operatives on site for seven months prior to the first Covid lockdown. It was the first time they had installed the Ultima+ Finesse tile.
'We had some meetings with Zentia to talk through the detailing of the Finesse element and put it to the guys on site, but apart from that, and some co-ordinating with services, it was very straightforward,' explains PFP commercial director Colin Burns.
'It looks good and gives a nice bright finish. It was also interesting to be the first installer of Finesse in Scotland.'
For more information and technical support, visit zentia.com
Contact:
0800 371 849
---