Focusing on home-based manufacture and customer support is helping Zentia offer reliable and agile canopy, tile and suspension system solutions in uncertain times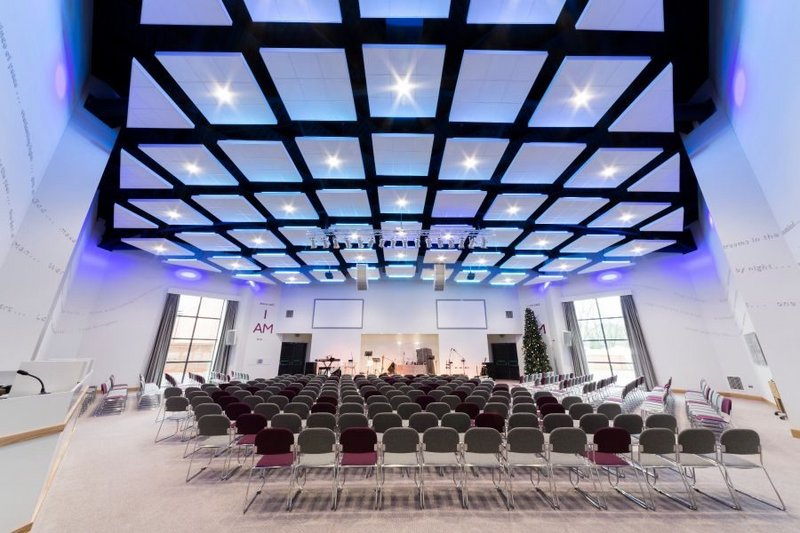 Zentia ceiling at Kings Church Amersham in Buckinghamshire. Zentia is the UK's market leader in complete ceiling solutions.
Mineral fibre ceiling manufacturer Zentia has announced the next phase of its brand strategy.
It is aiming to put customers at the heart of its operation with a new campaign called 'Above all, you'.
Zentia's new customer-centric approach
The move follows Zentia's research into the opportunities and challenges facing its specifier, contractor and distributor partners who rely on the manufacturer's innovative and futureproof ceiling solutions every day.
The company identified a number of recurring themes, from quality and reliability to delivery and sustainability - any of which can be its partners' priority at any one time.
Zentia believes its 'Above all, you' strategy allows it to flex and tailor its products and services to individual customers and unexpected challenges.
Zentia: Built on solid values
Formerly known as Armstrong Ceiling Solutions, last year the company rebranded as Zentia following a re-think of the mission and values that drive the business.
The re-launched company now focuses on four key characteristics it believes its customers value in a partner: reliability, UK focus, partnership and innovation.
Reliability is critical for stakeholders and their projects and Zentia has invested heavily in a UK infrastructure for everything from manufacturing plants to after-sales support.
It believes it offers customers and end users certainty with superior product quality and delivery promises.
Zentia continues to run its market-leading contractor partnering scheme and its installation school, where it trains new talent.
'In this uncertain and ever-changing world, having everything from manufacture to customer support right here in the UK means we are more agile and in control,' says Graham Taylor, Zentia sales and marketing director. 'It allows us to successfully solve problems for our end-user clients.'
Zentia has a reputation for innovation and anticipating customer needs and aims to work collaboratively with partners to create real value in every project delivered.
For more information and technical support, visit zentia.com
Contact:
0800 371 849
---